News
McConnell Says He Would Block a Biden SCOTUS Nominee in 2024 if GOP Regains the Senate Majority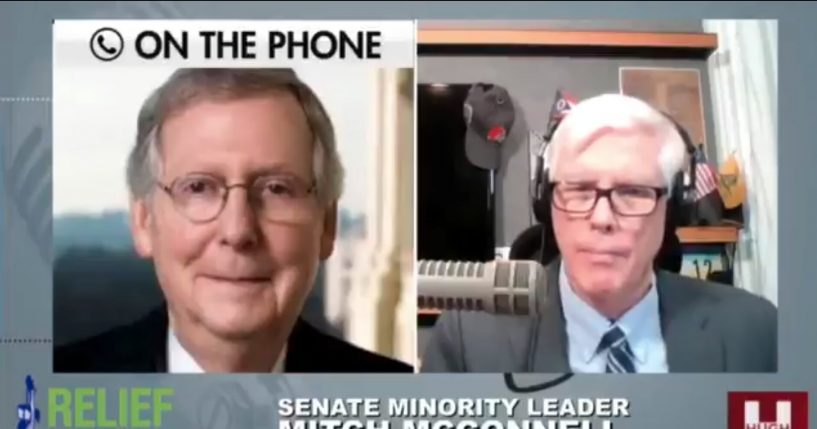 Senate Minority Leader Mitch McConnell (R-Ky.) says if Republicans regain control of the Senate, they will block President Joe Biden from filling a vacancy on the Supreme Court during the 2024 presidential election.
During an interview with conservative radio host Hugh Hewitt on Monday, McConnell was asked, "Would the rule that you applied in 2016 to the Scalia vacancy apply in 2024 to any vacancy that occurred then?"
"Well, I think in the middle of a presidential election, if you have a Senate of the opposite party of the president, you have to go back to the 1880s to find the last time a vacancy was filled," McConnell responded.
Advertisement - story continues below
He continued, "So, I think it's highly unlikely. In fact, no. I don't think either party, if it controlled, if it were different from the president, would confirm a Supreme Court nominee in the middle of an election."
In 2016, McConnell blocked then-President Barack Obama's Supreme Court nominee, Merrick Garland, as he argued voters should have a "voice" in the process.
During the interview with Hewitt, the Kentucky lawmaker also repeated his explanation for why Republicans confirmed Justice Amy Coney Barrett in the midst of the 2020 presidential election. Barrett's confirmation process was one of the fastest in U.S. history.
"What was different in 2020 was we were of the same party as the president," he said.
Advertisement - story continues below
Watch the video below:
Senate Minority Leader Mitch McConnell tells @hughhewitt he would not allow President Biden to fill a SCOTUS vacancy in 2024 if he is majority leader. pic.twitter.com/9gYAqXmyQD

— The Recount (@therecount) June 14, 2021
McConnell's decision to block Garland's confirmation and advance Barrett's gave then-President Donald Trump the opening to fill three Supreme Court vacancies in one term.
The court now has a 6-3 conservative majority.
Progressives have cited McConnell's maneuvering as reason to increase the number of justices on the court
Advertisement - story continues below
After a group of Congressional Democrats unveiled a bill to increase the number of justices on the court, Brian Fallon, a co-founder of Demand Justice, claimed, "Our task now is to build a grassroots movement that puts pressure on every Democrat in Congress to support this legislation because it is the only way to restore balance to the court and protect our democracy."
Sen. Sheldon Whitehouse (D-R.I.) said, "There's been a lot of manipulation and I think it's put the court in a very perilous position, and we need to remedy the problems that McConnell caused."
Truth and Accuracy
We are committed to truth and accuracy in all of our journalism. Read our editorial standards.
Comment Down Below
Conversation