News
McConnell Reveals Which Dem President He Would Pick To Be 'Stranded on a Desert Island' With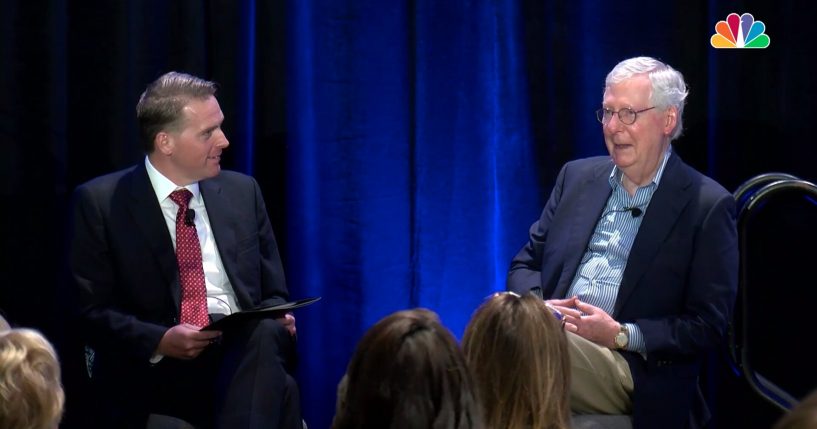 Senate Minority Leader Mitch McConnell (R-Ky.) is sharing which Democratic president he would pick to be stranded with on a desert island if he could only have "one companion."
During an event at the Kentucky Chamber of Commerce on Tuesday, McConnell was asked, "You're stranded on a desert island and you can only have one companion. Your choices are Joe Biden, Barack Obama, Bill Clinton or Jimmy Carter. Who do you choose?"
"That's a tough choice," the Kentucky senator responded.
Advertisement - story continues below
He ruled out former President Jimmy Carter first.
"I like President Obama. The only thing I didn't like about him is he had a tendency to tell me to my face what I thought, and one time I had to say, 'Mr. President, really, that's not what I think,'" he said.
Finally, McConnell said he would choose the current occupant of the White House, "Biden and I did four bipartisan deals during the Obama administration, I consider him a personal friend. I was the only Republican who went to his son Beau's funeral, so that would be an easy choice. I think Biden is a first-rate person."
Watch the video below:
Advertisement - story continues below
McConnell has previously said he likes President Joe Biden personally but strongly disagrees with his policies.
"He's a first-rate person… Nevertheless, this is a bold left-wing administration. I don't think they have a mandate to do what they are doing," McConnell told reporters in April.
He added, "I'm gonna fight them every step of the way because I think this is the wrong prescription for America."
Truth and Accuracy
We are committed to truth and accuracy in all of our journalism. Read our editorial standards.
Comment Down Below
Conversation