McConnell: Senate Pivots From Partisan Period to Passing Package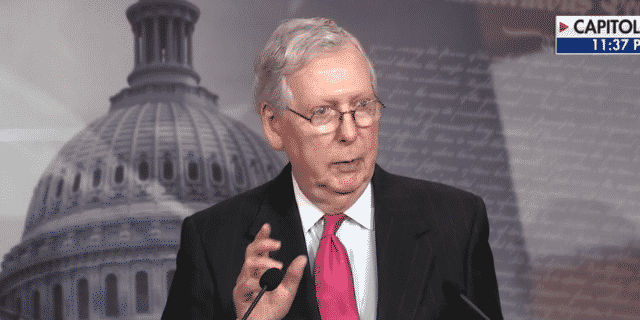 From the impeachment drama in Washington, D.C., to coming together to help the American people in a time of crisis, Senate Majority Leader Mitch McConnell (R-Ky.) is reflecting on the "proud" moment.
After negotiations between Republicans and Democrats, the two parties came together to unanimously pass — 96-to-0 — a historic massive coronavirus relief package of $2 trillion.
A few Republican senators indicated on Wednesday they opposed fast-tracking the bill due to "a massive drafting error" where "there is a strong incentive for employees to be laid off instead of going to work."

However, Sen. Lindsey Graham (R-S.C.) — one of the three Republicans — later said, "There's a lot of good in this bill" and that he would be voting for it.
"96-0 in the United States Senate. Congratulations AMERICA!" President Donald Trump tweeted in response.
The Republican leader spoke to the press late Wednesday to address the third stimulus package's passage.
"The Senate has pivoted from one of the most contentious, partisan periods in the nation's history to passing this rescue package a 100-nothing all in one quarter of this year," McConnell said.
"From arguably the most divisive thing you could possibly do to coming together entirely, 100 of us, to meet this challenge — I think says a lot about the United States Senate as an institution, our willingness to put aside our differences to do something really significant for the country."
"This is a proud moment of the United States Senate and for the country," the senator said, adding, "And we're going to win this battle in the very near future."
See McConnell's comments below:
Senate Minority Leader Chuck Schumer (D-N.Y.) said on Wednesday night, "Individuals even with bravery and valor are not powerful enough to beat it back. Government is the only force large enough to staunch the bleeding and begin the healing."
Some elements in the bipartisan 880-page bill include direct payments to Americans, depending on income, as well as $350 billion for small businesses and about $100 billion for hospitals.
House Speaker Nancy Pelosi (D-Calif.) indicated that she supports the bill. Additionally, Trump has said that he will sign the bill as soon as it is passed in the House of Representatives.
Dubbing the coronavirus "the worst pandemic in over fifty years," Pelosi wrote in a statement that "urgent action continues to be needed to address this threat to the lives and livelihood of the American people."
"On Friday, the House will take up the legislation with strong bipartisan support," she wrote.
Published in IJR, News