Commentary
McEnany Goes Off on Biden, Harris for Their 'Silence' on Attempt to Kill Kavanaugh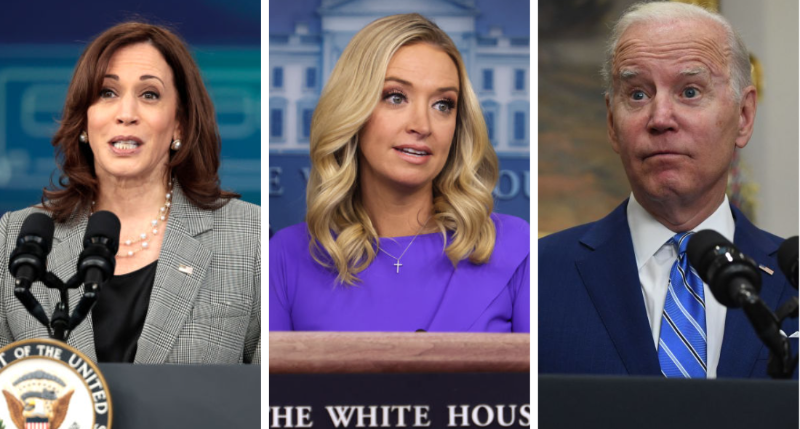 President Joe Biden and Vice President Kamala Harris seem to have lost their voices about condemning violence when it comes to the attempt to murder Supreme Court Justice Brett Kavanaugh.
White House Press Secretary Karine Jean-Pierre told reporters on board Air Force One on Wednesday that the president condemns the incident.
However, former White House Press Secretary Kayleigh McEnany ripped into Biden and Harris for not personally speaking out to condemn the incident during a segment of Fox News' "Outnumbered."
Advertisement - story continues below
"Since the media won't ask the question, I will: Where are you, President Biden? Where are you, Vice President Kamala Harris?" she asked on Thursday.
McEnany went on, "Any time there was any kind of violence or hatred or bigotry, I as the press secretary would be asked immediately by the media what the president's stance on it was."
She noted that reporters asked her so many questions about former President Donald Trump's stance on various instances of violence she prepared "pages and pages" of him condemning hatred, bigotry, and violence.
"They're not asking that and demanding it of the president and the vice president. We've gotten a statement from the press secretary, we've gotten a statement from the deputy. What about the leader of the free world?" she asked.
Advertisement - story continues below
Watch the video below:
Why hasn't President Biden HIMSELF condemned the deranged individual who showed up to kill Justice Kavanaugh? pic.twitter.com/T7ncwoR5yy

— Kayleigh McEnany (@kayleighmcenany) June 9, 2022
Do you think Biden should speak out?
McEnany noted that Biden had ample opportunities to personally condemn the attempt to kill Kavanaugh.
However, Biden declined to speak about the attempted murder when he left the White House on Wednesday, while he was on Air Force One, or during an appearance on late-night host Jimmy Kimmel's show.
"We get silence from Joe and Kamala," she added.
Advertisement - story continues below
And as of Friday morning, Biden has not released any personal statement addressing the incident.
Granted, this attempted murder seems to a certain extent ridiculous in that it was foiled because the individual who showed up at Kavanaugh's house reportedly decided to call the police on himself.
But can you remember the last time we heard about an assassination attempt on a justice?
It is worth asking, what would have happened if some whacko right-wing individual showed up at the house of Justice Ruth Bader Ginsburg with the intent to kill her and Trump declined to say anything about it?
Advertisement - story continues below
The press would probably be leaping up and down, shouting about "norms" and the need to ensure that judges can do their job without fear for their safety. Some might even suggest that Trump would have supported Ginsburg being murdered if he did not speak out personally.
Even if Trump's press secretary issued a condemnation of an attempt on a justice's life, reporters would probably be screaming at him as he walked away if he didn't say anything about it personally.
And yet, the man who spoke during his inaugural address about unity and ending this "uncivil war" has had nothing to say personally about a person trying to kill a justice because they were upset about a potential decision.
Harris has also been silent on the incident.
Advertisement - story continues below
Regardless of whether they like or respect Kavanaugh or the way it appears the court is leaning on the issue of abortion, you would think that Biden and Harris, who can be very loquacious, would be able to personally condemn attempts on Supreme Court justices' lives.
Truth and Accuracy
We are committed to truth and accuracy in all of our journalism. Read our editorial standards.
Comment Down Below
Conversation