News
Kayleigh McEnany Urges Trump to Delay Potential 2024 Announcement Until After Georgia Run-Off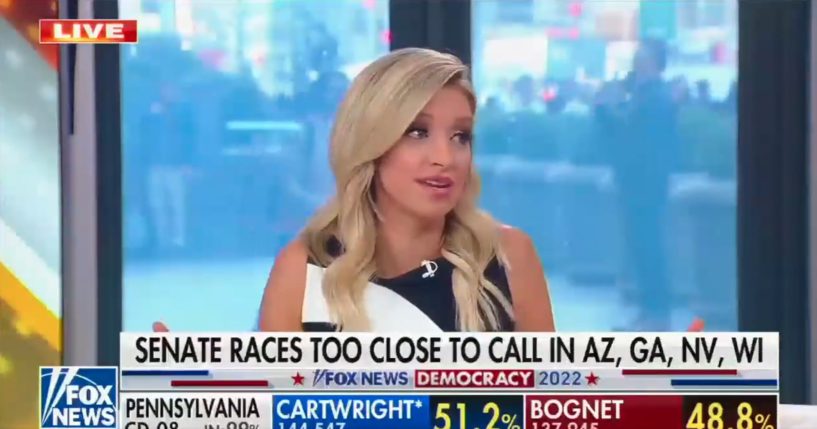 Former White House Press Secretary Kayleigh McEnany is recommending any potential Republican 2024 presidential candidates hold off on their announcements.
And that includes her old boss former President Donald Trump.
During a segment of Fox News' "Outnumbered" on Wednesday, the panelists discussed the results of the 2022 midterm elections and the news that Georgia's Senate race is headed toward a run-off.
Advertisement - story continues below
"Every ounce of Republican energy, every last ounce, needs to go into that Georgia race because it could potentially be what makes or breaks the Senate," McEnany said.
She continued, "I know there's a temptation to talk about 2024. No, no, no. 2022 is not over. Every Republican energy needs to go to grinding the Biden agenda to a halt."
Co-host Harris Faulkner chimed in to ask, "Does that include Trump?"
"I think he needs to put it on pause, absolutely…He will make his own decision," McEnany responded. "If I'm advising any contender — DeSantis, Trump, whomever — no one announces 2024 until we get through Dec. 6."
Advertisement - story continues below
On Monday, Trump teased a "very big announcement" will be coming on Nov. 15, raising the speculation that he is preparing to announce another presidential campaign.
Watch the video below:
Do you think Trump will delay his announcement?
Former Trump White House Press Secretary Kayleigh McEnany says Florida Gov. DeSantis should campaign for Republican Herschel Walker in the Georgia Senate runoff, but former Pres. Trump should delay his Nov. 15th announcement and stay away from the race:pic.twitter.com/w64ZfP9ra6

— Alex Salvi (@alexsalvinews) November 9, 2022
When asked if there could be a "need" for Trump to campaign in Georgia, McEnany said, "I think we've got to make strategic calculations."
"Gov. DeSantis, I think he should be welcomed to the state given what happened last night. You gotta look at the realities on the ground," she continued. "You gotta win the Senate. That's it, guys."
Advertisement - story continues below
McEnany's comment about DeSantis seems to refer to the apparent disparity in outcomes between candidates closely aligned with Trump and those who had some distance from the former president.
The key race for Georgia's Senate seat is headed to a run-off as neither Sen. Raphael Warnock (D) nor Herschel Walker (R), a Trump-backed candidate, received 50% of the vote.
Georgia Gov. Brian Kemp (R), who faced a Trump-backed primary challenger, comfortably won re-election. Meanwhile, Florida Gov. Ron DeSantis (R) won his reelection bid by almost 20 points.
The run-off in Georgia could determine control of the Senate. If Democrats manage to hold onto the seat, their chances of keeping the status quo or expanding their majority would improve. If Republicans can flip the seat, they would only need to flip either Arizona or Nevada to win control of the chamber.
Truth and Accuracy
We are committed to truth and accuracy in all of our journalism. Read our editorial standards.
Comment Down Below
Conversation