News
Gen. Mark Milley Defends Military Studying Critical Race Theory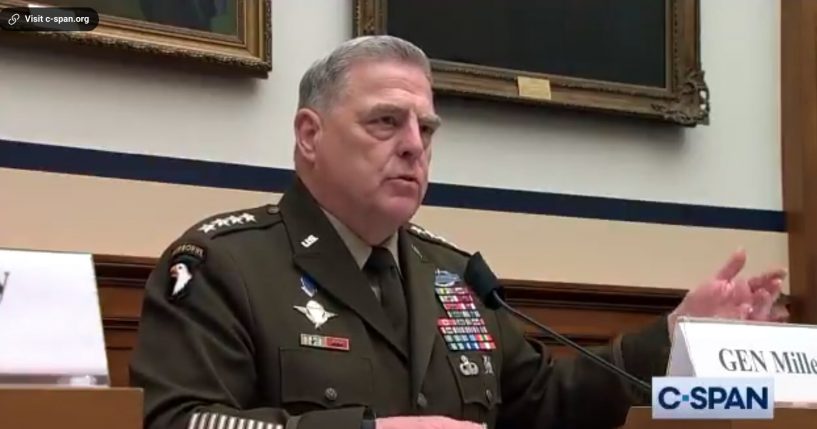 As Republicans are increasingly turning their fire on critical race theory, Chairman of the Joint Chiefs of Staff Gen. Mark Milley is defending the teaching and studying of the theory in the military.
During a House hearing on Wednesday, Milley said, "On the issue of critical race theory, etc., I'll obviously have to get much smarter on whatever the theory is, but I do think it's important, actually, for those of us in uniform to be open-minded and be widely read."
"The United States Military Academy is a university. And it is important that we train and we understand. I want to understand white rage, and I'm white. And I want to understand it," he continued. "So, what is it that caused thousands of people to assault this building and try to overturn the Constitution of the United States of America? What caused that? I want to find that out, and I want to maintain an open mind here, and I do want to analyze it."
Advertisement - story continues below
He went on:
"It's important we understand that because our soldiers, sailors, airmen, marines, and guardians, they come from the American people. So, it is important that the leaders, now and in the future, do understand it. I've read Mao Tse Tung. I've read Karl Marx. I've read Lenin. That doesn't make me a communist. So what is wrong with having some situational understanding about the country for which we are here to defend?"
As Milley spoke, Rep. Matt Gaetz (R-Fla.) could be seen shaking his head apparently in disapproval with his comments.
Finally, he added, "I personally find it offensive that we are accusing the United States military, our general officers … of being, quote, 'Woke' or something else because we're studying some theories that are out there… I want to know and it matters to our military and the discipline and cohesion of this military."
Advertisement - story continues below
Watch the video below:
Gen. Mark Milley responds to Rep. Matt Gaetz on Extremism & Critical Race Theory: "I personally find it offensive that we are accusing the United States military, our general officers, our commissioned, non-commissioned officers of being 'woke' or something else." pic.twitter.com/P1x6vg9FUr

— CSPAN (@cspan) June 23, 2021
According to the Encyclopedia Britannica, critical race theory is an "intellectual movement and loosely organized framework of legal analysis based on the premise that race is not a natural, biologically grounded feature of physically distinct subgroups of human beings but a socially constructed (culturally invented) category that is used to oppress and exploit people of colour."
Additionally, "Critical race theorists hold that the law and legal institutions in the United States are inherently racist insofar as they function to create and maintain social, economic, and political inequalities between whites and nonwhites, especially African Americans."
Republicans have taken a strong stance against the theory. Sen. Ted Cruz (R-Texas) claimed during a conservative gathering last week that the theory is "bigoted" and "racist as a Klansman in white sheets."
Advertisement - story continues below
Throughout the country, Republican state lawmakers have introduced and passed bills aimed at banning the teaching of the theory in schools.
Truth and Accuracy
We are committed to truth and accuracy in all of our journalism. Read our editorial standards.
Conversation