Minneapolis Protest Breaks out as They Demand Accountability Over George Floyd's Death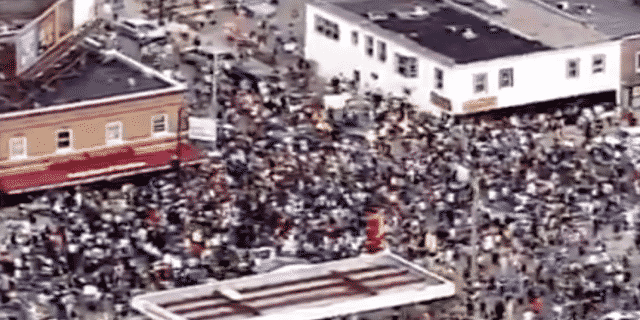 Protests in Minneapolis, Minnesota intensified as angry protestors demanded accountability for four officers following the death of George Floyd, an unarmed man who died while in custody.
On Tuesday, protests erupted in the streets of Minneapolis as a video of the moment between Floyd and the officers went viral on social media.
Despite the graphic nature of the video, Police Officers Federation of Minneapolis: MPD Federation president Lt. Bob Knoll urged citizens not to "rush to judgment."
The four officers have been fired but there is now a public outcry for charges to be brought against the former officers. Angry protesters are convinced the officers should be held accountable for Floyd's untimely death.
By the evening, hundreds of protesters headed toward the police precinct.
The police department and its patrol cars were vandalized with broken windows and graffiti as protesters closed in on the Minneapolis police precinct, demanding justice for Floyd. As protests worsened, officers in riot gear released tear gas into crowds.
See footage of the protests below:
Tear gas fired at protesters, angry at the death of unarmed George Floyd, who was pinned down by a policeman in Minnesota, UShttps://t.co/Konj3lFIjt pic.twitter.com/AlP6Gvnsj5

— BBC News (World) (@BBCWorld) May 27, 2020
Thousands of protesters in Minneapolis fill 38th Street and Chicago Avenue where George Floyd was detained by four police officers and killed. #JusticeForFloyd

Earlier, the mayor said that all four killer cops had been fired. This is how the community responded. Video: KSTP-TV pic.twitter.com/ht9m3SY6YH

— Camila (@camilateleSUR) May 27, 2020
Massive #riots in #Minneapolis, #Minnesota, in response to the killing of #GeorgeFloyd, an unarmed black man, by #MinneapolisPolice yesterday. An officer sat on him, choking him to death. Protests are turning inti violent riots at this time.#MinneapolisPoliceMurderdHim pic.twitter.com/GJ3W3qGcxk

— The Brooklyn View (@TheBrooklynView) May 27, 2020
The protests came just hours after footage of Floyd had gone viral on multiple social media networks.
In the video, a subdued Floyd — handcuffed while lying face-down on the pavement — can be heard saying, "Please, please, please, I can't breathe," a Minneapolis police officer pinned his knee into the back of Floyd's neck.
Bystanders repeatedly expressed concern about Floyd's decline, but to no avail. He later died in custody.
(Viewer discretion is advised):
Amid public outcry, Minneapolis Mayor Jacob Frey (D) spoke out in agreement with the department's decision to fire the officers. He also criticized their actions, saying the officer "failed in the most basic, human sense."
Sen. Amy Klobuchar (D-Minn.) also weighed in with a call for an investigation into the handling of Floyd's arrest, as she told CNN the evidence is "crying out for some kind of a charge" against the officer.
The Democratic senator criticized the officers as she argued that Floyd's death is unjustifiable based on the lengthy period of time in which the incident occurred.
"He was pleading for his life, and outsiders were telling the officer very clearly, 'He can't breathe. He can't breathe,'" Klobuchar said. "This wasn't a sudden mistake or a procedure gone bad. This was over a period of time."
"He was pleading for his life." Sen. Amy Klobuchar says the firing of four Minneapolis police officers for their involvement in the death of George Floyd, a black man who was held down with a knee as he said that he couldn't breathe, was a "first step." https://t.co/YXGzYBiPIp pic.twitter.com/HbFXXfKwvk

— Cuomo Prime Time (@CuomoPrimeTime) May 27, 2020
My statement on the officer-involved death in Minneapolis: pic.twitter.com/HUoGfXEj7R

— Amy Klobuchar (@amyklobuchar) May 26, 2020
While Knoll claims the officers insist Floyd resisted upon exiting the vehicle, the public is arguing there is no way to justify the officer kneeling on Floyd's neck for the amount of time that he did.
New footage showing a different angle of the arrest has also raised questions. According to surveillance footage obtained by WCCO, Floyd appears to have complied with officers.
While no charges have been brought against any of the officers involved, Frey and Klobuchar are both calling for the officers to be held accountable.