News
Mom Who Beat COVID Thanks Doctor in a Special Way for Saving Her and Her Baby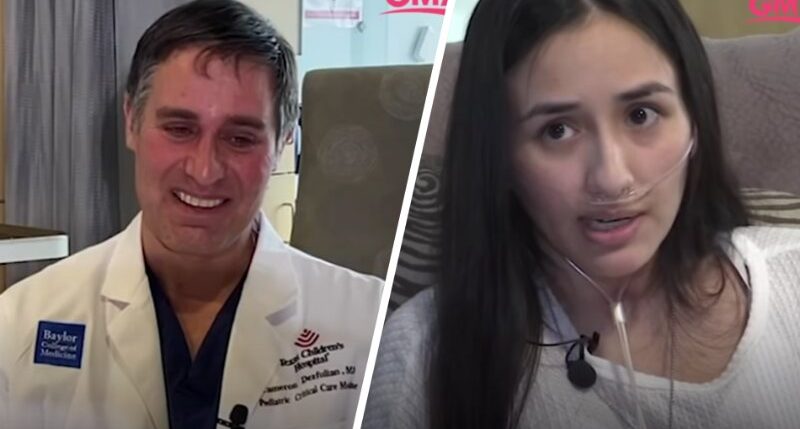 A Texas couple honored their doctor with a tribute after saving the life of the wife and her unborn baby after a near death bout with COVID last year.
The couple welcomed a baby in November and named him Cameron after Diana Crouch's doctor, Dr. Cameron Dezfulian, the medical director of the Adult Congenital Heart Disease, ICU unit at Texas Children's Hospital in Houston, who they believe helped to save both Diana and their baby's lives.
In July, Diana Crouch was 18 weeks pregnant and she traveled with her husband Chris Crouch to Las Vegas to celebrate their anniversary. What was meant to be a time of enjoyment turned into misery when Diana Crouch started experiencing a "really bad headache" while on the trip, she tells "Good Morning America."
Advertisement - story continues below
Things started to get worse when Diana Crouch got home from her trip and developed a fever. After getting in contact with her obstetrician, they assumed that she was just dehydrated and advised her to drink plenty of water and take Tylenol. However, her symptoms didn't go away, and after contacting her doctor again, they recommended that she go to the emergency room.
Unfortunately, after going to the ER, Diana Crouch received the news that she tested positive for COVID-19. According to Diana Crouch, the ER doctor told her to "stay on top of the fever and eat healthy." The doctor also advised to use a pulse oximeter to track her oxygen levels to make sure they stayed high enough.
When there were no signs of improvement in her condition, her husband drove her back to the ER to get checked out again.
Chris Crouch described to "Good Morning America" what that harrowing experience was like saying, "This time, they said her lungs looked like they had pneumonia. And then they were going to admit her but the treatment that she was going to need, they were going to have to find a hospital so they found Texas Children's Pavilion for Women."
Advertisement - story continues below
Now, Diana Crouch would have to endure the battle of being diagnosed with COVID-19 pneumonia while being pregnant.
For the first two weeks, her condition still was not showing signs of improvement.
"The entire lung is sick." Dr. Cameron Dezfulian explained. He continued:
"She was in a unique situation where she was 18 weeks pregnant at that time, so she wasn't at a point where the baby could be delivered nor did it seem like that would necessarily help. If the pregnancy is a lot further along, then removing the child helps the mom a lot just because it makes space. But here, it wasn't that situation at all."
Due to her condition's severity, Chris Crouch and Diana Crouch's doctors opted for what would be considered a last resort, to place her on ECMO or extracorporeal membrane oxygenation.
Advertisement - story continues below
With ECMO, "we pump the blood out of the heart, usually out of the right atrium … and we pump it through this artificial lung that essentially oxygenates it and blows off the carbon dioxide so it does the job that the lung normally would do. And then we shoot it back into the right heart, into the right ventricle, so that it can be pumped through the lungs and that way, if the lungs themselves essentially do no work. which in these cases is what's happening because they've just gotten so sick," Dezfulian explained.
At this point, Diana Crouch was on ECMO for eight weeks. She dealt with multiple complications including, a blood clot, a stroke, a heart attack, and multiple seizures. All of which her husband and father had to witness.
Watch the video below:
Advertisement - story continues below
Speaking about the emotional trial, Chris Crouch said, "After her stroke, she was kind of laying there. She didn't move or anything for like three days. And I told Dr. Cameron if she starts to wake up, I know we're gonna walk out of this hospital. And she woke up the next day."
Thankfully, after receiving therapy and medications, Diana Crouch's condition improved. Still, at 31 weeks, Dr. Dezfulian realized that her condition had "plateaued," so the doctors decided to do a C-section.
Diana Crouch welcomed a baby boy, Cameron Andrew Crouch, on Nov. 10, 2021. His initial due date was Jan. 9, 2022.
Dezfulian said of this life-changing journey:
Advertisement - story continues below
"Both for me and for her parents, and we were both Christians, and we really felt like this was miraculous. We prayed a lot and we felt like God was kind of helping us because there's no textbook on these things. We had to make some really tough choices that could have easily gone poorly. And yet they didn't."
Prayer is such a powerful tool for the believer. That is why God tells us to "pray without ceasing" in 1 Thessalonians 5:17, and we can have confidence that He hears us.
After spending approximately four and a half months in the hospital, Diana Crouch recovered and was transferred to Houston Methodist Hospital, finally discharged on Dec. 23. She is now back home with her family and adjusting to life with her new baby boy, the couple's second child.
"It's been crazy. I mean, I can't complain. I just cherish every moment," Diana Crouch said. "Like crying, screaming, all of it. It doesn't bother me. Nothing bothers me now."
Truth and Accuracy
We are committed to truth and accuracy in all of our journalism. Read our editorial standards.
Comment Down Below
Conversation