News
MTG Suggests Republicans Can Challenge Kamala Harris' Ability to Be on the Ballot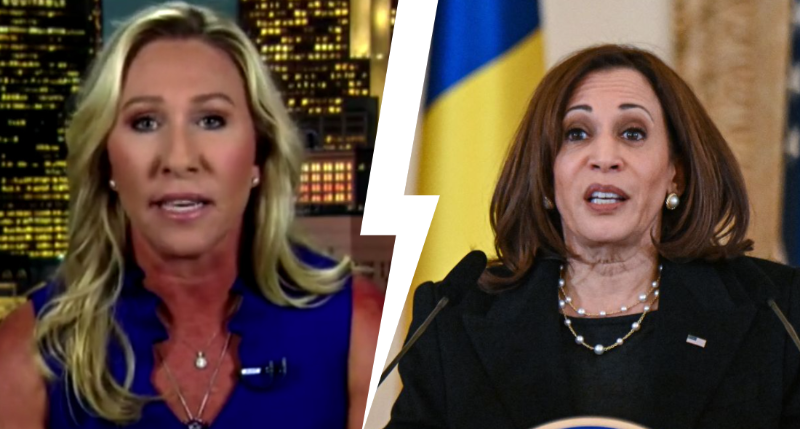 Facing a push to strip her from the ballot, Rep. Marjorie Taylor Greene (R-Ga.) argues Republicans could fight back by challenging prominent Democrats' candidacies.
During an appearance on Tucker Carlson's show on Fox News Monday night, the Georgia Congresswoman was asked about an effort to disqualify her from running for reelection over her alleged role in the Jan. 6 riot at the U.S. Capitol.
"They're trying to rip my name off the ballot and steal my district's ability to reelect me and send me back to Congress," Greene said.
Advertisement - story continues below
Carlson argued, "If you can prevent voters from being allowed to vote for the candidate of their choice — which is their Constitutional right — then the system's over."
"Is the Republican Party with all four paws jumping in to help you?" he asked.
Greene said the party was not mounting a strong defense of her. Additionally, the Congresswoman said she has to go to court to defend her ability to be on the ballot.
"The Republican Party needs to fight harder," she said.
Advertisement - story continues below
Greene continued, "If you can challenge any representative's candidacy, or elected officeholder, then I bet you we could round up some Republican voters who didn't like Kamala Harris funding rioters, criminal rioters, out of jail. Or Ilhan Omar, or Cori Bush, or Maxine Waters inciting riots."
"I think there's another way to play this game," she added.
Do you think Republicans would try to remove Harris from the ballot?
Watch the video below:
Marjorie Taylor Greene tells Tucker Carlson about an effort to keep her off the ballot in her district. pic.twitter.com/LpMvC4KnmT

— The Post Millennial (@TPostMillennial) April 19, 2022
According to The Washington Post, "A federal judge ruled Monday that a group of Georgia voters can proceed with their legal effort to disqualify Rep. Marjorie Taylor Greene (R-Ga.) from running for reelection because of her role in the Jan. 6, 2021, attack on the U.S. Capitol by a pro-Trump mob."
Advertisement - story continues below
A similar challenge has been filed against Rep. Madison Cawthorne's (R-N.C.) candidacy.
"The challenges claim that the lawmakers' actions violate a provision of the 14th Amendment and thus make them ineligible to run for reelection," the Post explained.
Greene's comments about Vice President Kamala Harris refer to a 2020 tweet she sent that linked to a site where people could donate to help post bail for people who were arrested during the protests that broke out after George Floyd was killed.
If you're able to, chip in now to the @MNFreedomFund to help post bail for those protesting on the ground in Minnesota. https://t.co/t8LXowKIbw

— Kamala Harris (@KamalaHarris) June 1, 2020
Advertisement - story continues below
She did not point to specific examples or allegations of Reps. Cori Bush (D-Mo.), Ilhan Omar (D-Minn.), or Maxine Waters (D-Calif.) inciting riots.
Truth and Accuracy
We are committed to truth and accuracy in all of our journalism. Read our editorial standards.
Comment Down Below
Conversation