Murkowski Claims the House Acted 'Appropriately' by Impeaching Trump Again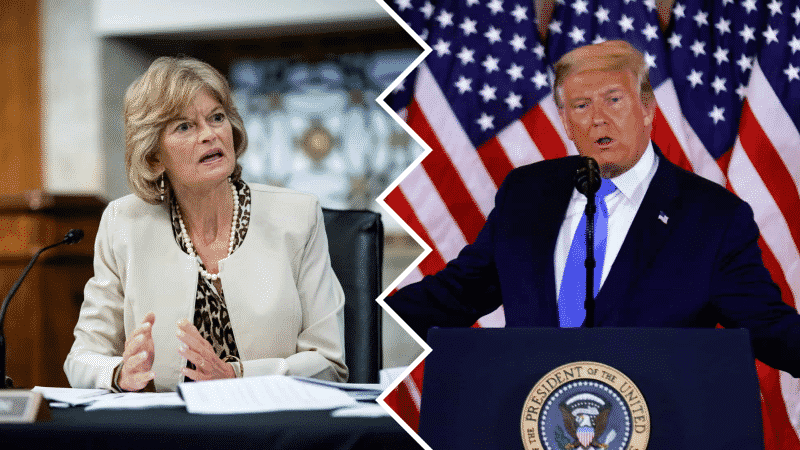 Sen. Lisa Murkowski (R-Alaska) is applauding the House for voting to impeach President Donald Trump over what many see as his role in inciting the mob that stormed the U.S. Capitol.
In a statement on Thursday, Murkowski said, "For months, the President has perpetrated this false rhetoric that the election was stolen and rigged, even after dozens of courts ruled against these claims."
She noted that after Trump was "not able to persuade the courts or elected officials," he turned his attention to Vice President Mike Pence and pressured him to throw out electoral votes — which the vice president does not have the power to do.
"On the day of the riots, President Trump's words incited violence, which led to the injury and deaths of Americans — including a Capitol Police officer — the desecration of the Capitol, and briefly interfered with the government's ability to ensure a peaceful transfer of power," she continued.
Finally, she said, "Such unlawful actions cannot go without consequence, and the House has responded swiftly, and I believe, appropriately, with impeachment."
Read the statement below:
Republican Sen. Lisa Murkowski does not say how she'd vote in an impeachment trial. But, she does say a lot in this statement. pic.twitter.com/GLE0AZwGJy

— Lauren Fox (@FoxReports) January 14, 2021
Just one week after a mob of Trump supporters stormed the U.S. Capitol, the House voted 232-197 to impeach Trump for "incitement of insurrection."
The vote marks the first a president has been impeached twice.
The article of impeachment will now go to the Senate for a trial where lawmakers will vote on whether or not to convict Trump.
While she did not share how she plans to vote after the trial, Murkowski has previously called for Trump to resign as she said, "I want him to resign. I want him out. He has caused enough damage."
In 2020, Murkowski said Trump's campaign to pressure Ukrainian officials to open an investigation into his political opponents was "shameful and wrong."
However, she argued the House rushed the impeachment process and could have pursued a censure resolution instead. She added, "I cannot vote to convict. The Constitution provides for impeachment but does not demand it in all instances."