News
GOP Rep. Lauren Boebert Details Her Past 'Run-Ins With the Law' in New Book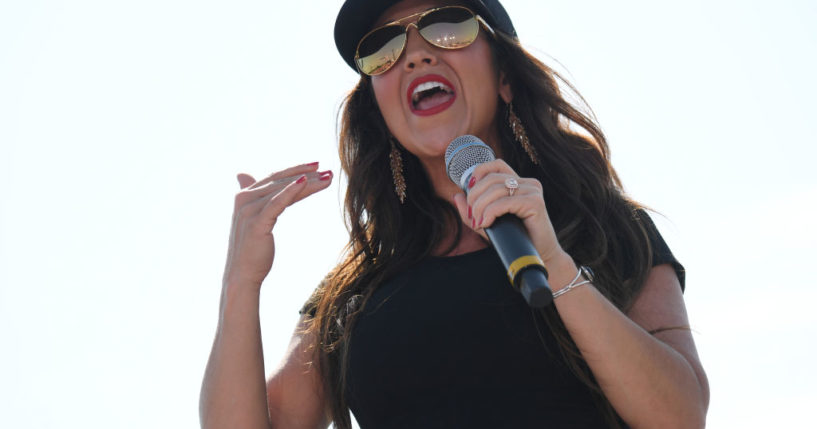 During the 2020 election, Rep. Lauren Boebert (R-Colo.) had her mugshots pertaining to her brushes with the law splashed across billboards. In her new book, Boebert details her past encounters with law enforcement.
Boebert said her past arrest record made her pause when debating to challenge incumbent Republican Rep. Scott Tipton in 2019 in a primary. 
She wrote in an advance copy of her book given to the Washington Examiner, "My background, upbringing, lack of formal education, and run-ins with the law were sure to make this impossible." 
Advertisement - story continues below
Her new book titled "My American Life" might be a strategic move considering her recently won second term in office and after the backlash she has faced for her vote to challenge the 2020 election results. In her book, Boebert has defended her election-related rhetoric and past brushes with the law. 
She has detailed a few of the pre-congressional encounters she has experienced with law enforcement. She also writes about an arrest that led to uncomplimentary headlines about her husband. 
Boebert's first arrest mentioned in her book stated that she was involved in a quarrel with police at the well-known Colorado Country Jam music festival in 2015. 
Boebert writes she took offense to the mishandling of a young girl who the police had "aggressively grabbed" and detained because of underage drinking.
Advertisement - story continues below
She said, "It bothered me seeing this young gal being treated so harshly."
When the police did not allow the girl to return to her mother, Boebert writes that she got involved, "I started yelling from about fifteen yards away and quickly made my way over. I was fired up."
As the quarrel escalated, Boebert who was 28 years old at the time, admitted that the difference of opinion quickly developed into a screaming match with the officers. 
The police had encouraged her to leave because she had no right to interfere, "They were ordering me to leave, and as they did, I brought out my smartphone and began recording them on video. I threatened to show it to the news media, and that's when one of them threatened me with arrest if I didn't stop."
She further writes, "I had every right to be there and told him so. I felt I hadn't done anything wrong."
Advertisement - story continues below
Critics have accused Boebert of hypocrisy over this arrest, as many believe she should not promote a law and order message with her past experiences with the law. Boebert has rebuked these claims in her book, "For the record, I have the utmost respect for law enforcement," she writes while noting that in the case of the Country Jam incident, "I believe the deputies misbehaved."
The mugshot she received did not occur as she was removed from the festival. The mugshot was taken after she missed her court date related to the disorderly conduct citation. 
Additionally, the second mugshot she discussed in the chapter "Pretty Little Mugshots" surrounds her second brush with law enforcement. Reportedly, Boebert was driving home from work with her husband when the wheel of her vehicle caught the shoulder, causing her car to roll into a ditch. 
This incident led to her receiving a citation for careless driving, and when she failed to resolve the citation, she was arrested while driving her children to school after she did not pay the ticket.
Advertisement - story continues below
In her book, out this week, she writes, "Unfortunately, I knew from my previous experience what was coming my way."
Some believe Boebert to be unremorseful about these past encounters with the law.
Truth and Accuracy
We are committed to truth and accuracy in all of our journalism. Read our editorial standards.
Comment Down Below
Conversation