News
Rep. Jerry Nadler Accused by Dem Primary Opponent of 'Wielding His Jewishness as a Divisive Tactic' in the Race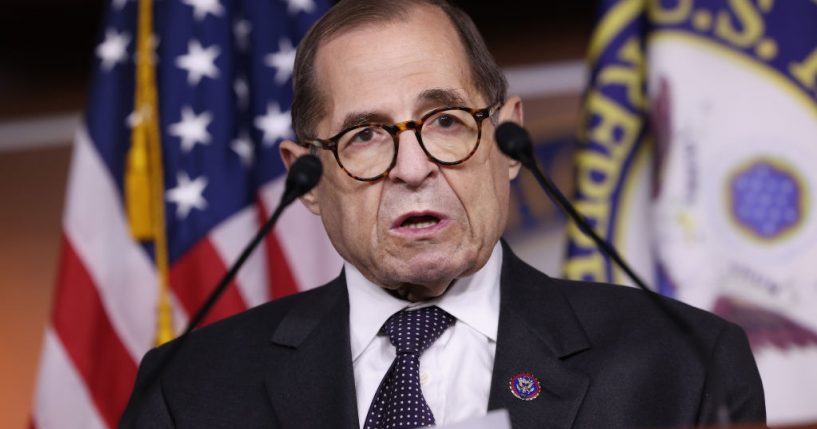 House Judiciary Committee Chairman Jerry Nadler (D-N.Y.) is in a tough primary battle, and one of his Democrat primary opponents is not holding back.
Nadler, the longest-serving Jewish member of the House, "wears his Jewishness with pride," as The New York Times writes.
Rep. Carolyn Maloney (D-N.Y.), "a staunch ally of Israel and American Jews," spoke to the Times and accused Nadler and his allies "of wielding his Jewishness as a 'divisive tactic' in the race."
Advertisement - story continues below
"It's a strange way to run, it's sort of like, 'Vote for me, I'm the only woman, or I'm the only white person, I'm the only Black person,'" Maloney said. "Why don't you put forward your statement, your issues, what you've done and the merit you bring to the race?"
Per the Times, "Mr. Nadler's allies argue that on matters of substance, representation and gut-level identity, he brings qualities to his role that are different from those a non-Jewish person could offer."
As the Times pointed out, "For a century, New York has been the center of Jewish political power in the United States. So much so that as recently as the 1990s, Jewish lawmakers made up roughly about half of New York City's delegation to the House of Representatives."
However, now Nadler is the only one left.
Advertisement - story continues below
There is a third Democrat running in the race, Suraj Patel.
Maloney told the New York Post that Nadler "asked me to leave and stand aside" in the race. However, she "said no because this district is majority mine."
"My whole life people have told me I shouldn't be where I am so I am not surprised he told me to step aside," Maloney said. "The time for women stepping aside is over."
The lawmaker added that she believes Nadler's treatment would have been different if she were a male.
The August 23 primary race is due to redistricting in New York. The district is now 60% Maloney's. Nalder and Maloney have both been in Congress for roughly 30 years.
Truth and Accuracy
We are committed to truth and accuracy in all of our journalism. Read our editorial standards.
Comment Down Below
Conversation