News
Watch: Nadler Directly Calls Out GOP Lawmakers for Not Following Mask Requirements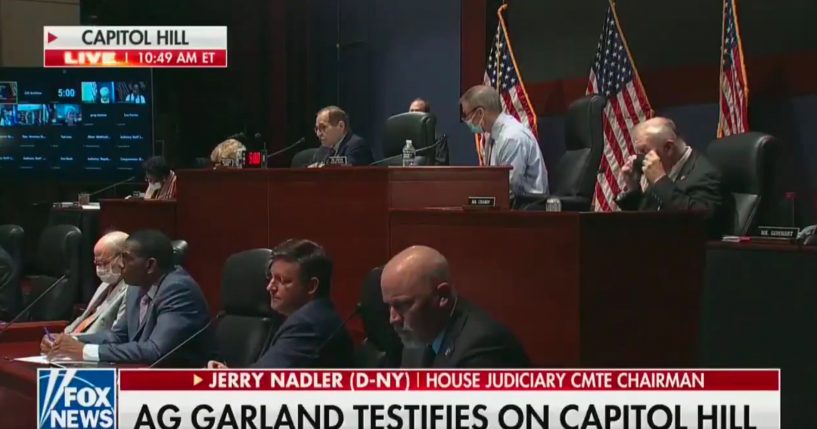 House Judiciary Committee Chairman Jerrold Nadler (D-N.Y.) called out Republican lawmakers for not following mask-wearing requirements during a hearing.
During a hearing on Thursday, Nadler said, "Once again, I would remind all members that guidance from the Office of Attending Physician states that face coverings are required for all meetings in an enclosed space such as committee hearings except when you are recognized to speak."
"And that means you, Jim, and Marjorie, and Matt, and a lot of other people I can't recognize because of distance. So please everyone observe that rule," he added.
Advertisement - story continues below
Watch the video below:
"That means you, Jim and Marjorie and Matt."

Watch Rep. Jerry Nadler call out Republicans by name over mask wearing during a House Judiciary Committee hearing. pic.twitter.com/18n4afWOZ9

— Mediaite (@Mediaite) October 21, 2021
As Nadler spoke, Rep. Jim Jordan (R-Ohio) could be seen wearing a mask.
However, three lawmakers seated at a lower level of the dais could be seen without masks.
Advertisement - story continues below
Additionally, a separate shot showed Reps. Matt Gaetz (R-Fla.), Marjorie Taylor Greene (R-Ga.) along with who appeared to be Lauren Boebert (R-Colo.), and Thomas Massie (R-Ky.) seated next to each other without masks.
In July, the House reimplemented its mandate that individuals wear a "well-fitted, medical grade, filtration face mask," regardless of their vaccination status, while in committee meetings, House office buildings, or the House chamber.
Earlier this year, Massie and Greene were each hit with a $500 fine for not complying with the mask mandate.
After the requirement was implemented, House Republicans balked.
Rep. Chip Roy (R-Texas) said, "Here on the People's House…We can't come to the floor, I can't execute my Constitutional duty, unless I wear a mask."
Advertisement - story continues below
He asked, "Well, which is it? Vaccines or masks? Do the vaccines work, or they don't work? Do the masks work, or they don't work? I'd like to know which it is. I'd like Dr. Fauci to come down and answer a single question about natural immunity. If you've been infected with the virus, do you have immunity?"
Finally, Roy said, "This institution is a sham! And we should adjourn and shut this place down."
Truth and Accuracy
We are committed to truth and accuracy in all of our journalism. Read our editorial standards.
Conversation