News
Native American Activist Sacheen Littlefeather Dies at 75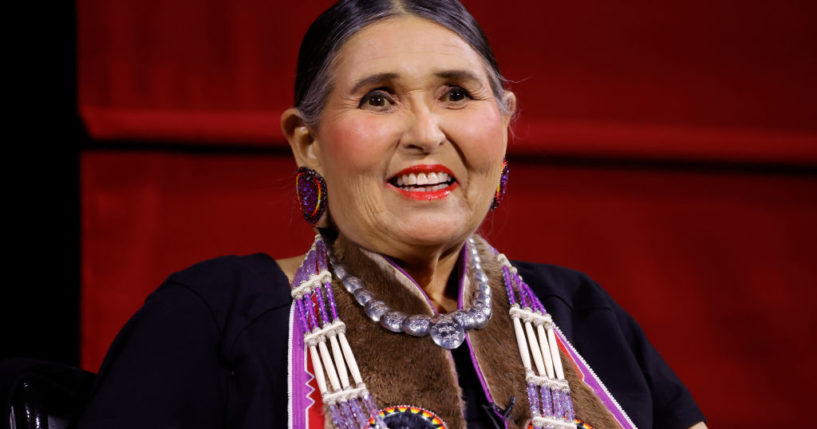 Native American activist Sacheen Littlefeather, known for declining to accept actor Marlon Brando's Academy Award in 1973, has died.
Littlefeather died on Sunday at the age of 75 after battling breast cancer since 2018, per the New York Post.
Her passing comes just two weeks after the Academy of Motion Picture Arts and Sciences, hosted an event in her honor called "An Evening With Littlefeather."
Advertisement - story continues below
During the event, she sat in a wheelchair and spoke about accepting her imminent death.
"I'm crossing over soon to the spirit world and you know, I'm not afraid to die. Because we come from a we/us/our society. We don't come from a me/I/myself society. And we learn to give away from a very young age. When we are honored, we give," she said.
In March 1973, Littlefeather was asked by actor Marlon Brando to attend the 45th Academy Awards in his place and to refuse the Best Actor Oscar for his performance in "The Godfather," according to "Good Morning America."
Brando made the choice not to attend as a protest of the federal government's response to the Wounded Knee occupation in February of that year.
Advertisement - story continues below
Littlefeather's speech was not received well by the audience and she was booed while on stage.
In August, the Academy of Motion Pictures Arts and Sciences wrote a letter of apology to Littlefeather on their website.
"The abuse you endured because of this statement was unwarranted and unjustified. The emotional burden you have lived through and the cost to your own career in our industry are irreparable," the letter reads.
The Academy also wrote that "for too long" the courage she showed "has been unacknowledged."
Advertisement - story continues below
"For this, we offer both our deepest apologies and our sincere admiration," the letter stated.
Truth and Accuracy
We are committed to truth and accuracy in all of our journalism. Read our editorial standards.
Comment Down Below
Conversation