Commentary
Major News Outlets' Sunday Shows Quiet on Alleged Plot to Kill Kavanaugh: Report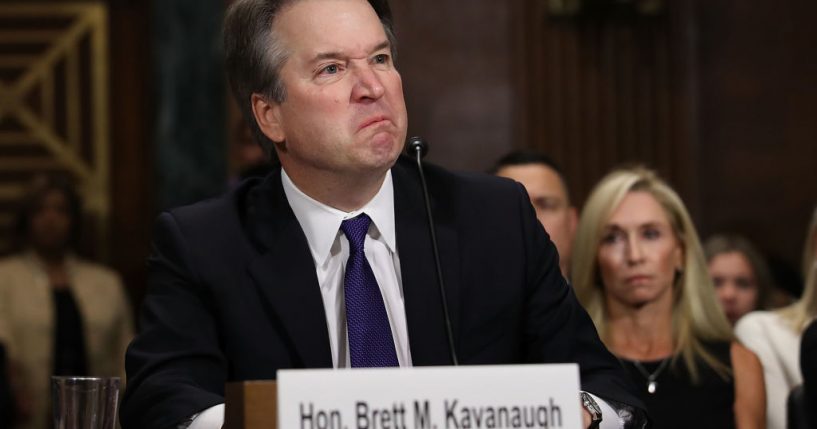 It has not even been a week since an armed man was arrested after allegedly aborting an attempt to murder Justice Brett Kavanaugh, and yet the story appears to have largely disappeared from the headlines.
Kevin Tober of the conservative Media Research Center's NewsBusters tracked the amount of time major news outlets' Sunday shows spent on the incident.
According to Tober, ABC News spent zero minutes on the Kavanaugh story and 19 minutes and eleven seconds on the Jan. 6 committee hearings.
Advertisement - story continues below
CBS News, NBC News, and CNN also all spent zero minutes on the Kavanaugh story.
Meanwhile, NBC devoted nearly 40 minutes to discussing the Jan. 6 hearings, while CBS and CNN devoted nearly 20 minutes.
I just tallied the amount of coverage of the Jan 6 committee hearings vs the Kavanaugh assassination attempt on the Sunday shows:

ABC:
J6: 19:11
Kavanaugh: 0:00

CBS:
J6: 19:31
Kavanaugh: 0:00

NBC:
J6: 36:25
Kavanaugh: 0:00

CNN:
J6: 18:10
Kavanaugh: 0:00

— Kevin Tober (@KevinTober94) June 12, 2022
It is important for Americans to understand and know what happened on Jan. 6, if former President Donald Trump knew that the election wasn't stolen and kept pushing his unfounded fraud claims anyway, and what he knew and when about the violence.
Advertisement - story continues below
But if these commentators and reporters want to talk about threats to our democracy, then they should at least be able to talk about the alleged attempt to kill a Supreme Court justice by an individual who was reportedly upset about how the court was set to rule on a major case.
Check out some of the reactions below:
Do you think the media should cover this story more?
Why did the corrupt corporate media ignore the attempted murder of Justice Kavanaugh? https://t.co/O74jFWgNgE

— Ted Cruz (@tedcruz) June 12, 2022
If you've followed the media coverage of January 6, you'd think the Kavanaugh assassination attempt has everything that would make it a major story—the violation of norms, the violent targeting of one of our institutions, lies spinning out of control.

Except one little thing….

— Rich Lowry (@RichLowry) June 9, 2022
Advertisement - story continues below
Just to play this out, if the attempt on Kavanaugh's life had been successful, that would have given President Joe Biden another chance to nominate a justice. And since Democrats still have a majority in the Senate, there is no way they would pass up the opportunity to confirm another justice before the midterms.
It's hard to predict what the fallout of the action of one aggrieved individual who decided to sidestep the democratic process and kill a justice would be, but there's little doubt it would only further divide the country.
Despite the political earthquake that could have ensued if the plot was successful, and warnings that there could be more threats against the court, the media seems to only want to focus on one threat to our democracy.
Truth and Accuracy
We are committed to truth and accuracy in all of our journalism. Read our editorial standards.
Comment Down Below
Conversation