News
NFL Player Shares Special Guest That His Wife Will Be Bringing to the Super Bowl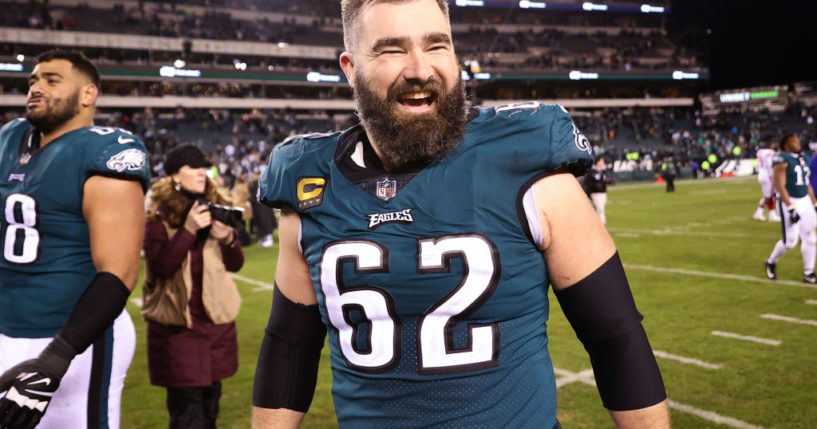 Jason Kelce, a player for the Philadelphia Eagles, revealed his pregnant wife, Kylie McDevitt, will be bringing her OB-GYN to the Super Bowl game.
During an episode on Jason Kelce's podcast, New Heights with Jason and Travis Kelce, which he hosts with his brother, Kansas City Chiefs player Travis Kelce, they spoke about Jason Kelce's wife potentially giving birth during the game.
"Kylie's bringing her OB because she's going to be 38 weeks pregnant at the game. That could be a Super Kelce Bowl. If she has a baby in the stadium, it's officially scripted," Jason Kelce said.
Advertisement - story continues below
The couple married in 2018 and have two daughters. They announced in September 2022 they will be having a third baby girl.
The KELCE BOWL is on!

Jason and Travis will become the first set of brothers to play on opposite teams in the same Super Bowl 🏆 pic.twitter.com/CogAy9e2Bs

— Sports Illustrated (@SInow) January 30, 2023
Jason and Travis Kelce, who are both offensive players for their respective teams, will make history as the first brothers to compete against one another in the Super Bowl, according to "Good Morning America."
The brothers shared their thoughts on how they feel about going against one another on Feb. 12, which they referred to as "The Kelce Bowl."
Advertisement - story continues below
"I don't know if I ever thought it was gonna happen. I think that you realize it could happen," Jason Kelce said.
Travis Kelce described it as "wild and kind of surreal."
Donna Kelce, Jason and Travis Kelce's mother, spoke about one of her son's getting "bragging rights" after winning the game.
"Somebody's gonna go home a loser for sure, and one of 'em's gonna be heartbroken because they didn't beat their brother," she said. "That's what it's gonna come down to. It's gonna come down to bragging rights."
She also said she will be cheering them both on from the stands.
Advertisement - story continues below
"It's gonna be really tough but I'm just gonna cheer my head off when the offense is on the field," she told the New York Post.
She added, "So I'm gonna be screaming the entire game. I'm gonna root for both of 'em to score. A lot."
Truth and Accuracy
We are committed to truth and accuracy in all of our journalism. Read our editorial standards.
Comment Down Below
Conversation