News
Nikki Haley Argues It Is 'Backward' to 'Ignore Ukraine' and Focus on China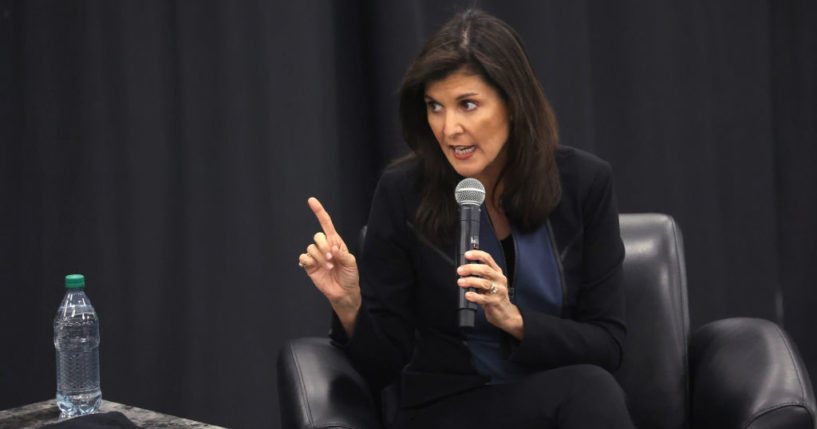 Republican presidential hopeful Nikki Haley is pushing back on conservatives who argue the U.S. should focus on countering China rather than Russia's invasion of Ukraine. 
In a column published by The Wall Street Journal Monday, Haley wrote, "This week's meeting in Moscow between Xi Jinping and Vladimir Putin is the latest proof that China is Russia's best friend and biggest backer."
"Everyone knows it, yet President Biden and some Republicans are failing to realize a corresponding truth: If Russia wins in Ukraine, China wins too," she continued. 
Advertisement - story continues below
Haley argued Chinese President Xi Jinping is supporting Russia in its invasion of Ukraine because "supporting Mr. Putin advances his dark vision."
"He wants Russia to conquer Ukraine so it's easier for China to invade Taiwan. He wants Russia to threaten the rest of Europe because it draws America's attention from Asia," she explained.
After accusing "many American politicians" of being "blind" to what she believes are China's aspirations, she asserted a Ukrainian victory would make the U.S. safer.
The former United Nations ambassador blasted President Joe Biden for voicing support for Ukraine but letting "Russia seize the initiative." Additionally, she claimed Biden "encouraged the invasion by surrendering in Afghanistan and by saying a 'minor incursion' into Ukraine would be OK."
Advertisement - story continues below
Haley went on:
"He has failed to send Kyiv the support it needs, when it needs it. He has even given Ukraine money without accountability when he should have sent weapons and military equipment. Ukrainians clearly have the will to win. But Mr. Biden has given Ukraine only enough to slow the Russian advance, not to repel it."
Do you think it is "backward"?
While she argued Biden's stance is "consistent with his history on national security," Haley voiced surprise about the "weakness from some on the right." 
"They say the U.S. shouldn't care about Ukraine because this war isn't our fight. Some call it a mere 'territorial dispute.' They say we should ignore Ukraine so we can focus on China," she continued. 
Her comment about labeling Russia's invasion of Ukraine appeared to be a shot at Florida Gov. Ron DeSantis (R ), who used that language while addressing the war.
Advertisement - story continues below
DeSantis also suggested in a statement to Fox News' Tucker Carlson that the U.S. should focus on "checking the economic, cultural, and military power of the Chinese Communist Party" and should not become "further entangled in a territorial dispute between Ukraine and Russia."
However, Haley argued, "This has it backward. China loses if Ukraine wins. Nobody knows that better than Mr. Xi. He wants America to shift attention from Ukraine in the short run, because it would give Russia and China an edge in the long run—in Europe, Asia and world-wide."
"The U.S. can stifle China's ambitions now by helping Ukraine, and we can do it without sending a blank check or risking American troops," she added.
Haley stated there are "many things we must do to counter China on technology, trade and intelligence." However, she insisted it would be "naive to think we can counter China by ignoring Russia."
Advertisement - story continues below
Her column comes as an Axios/Ipsos Two Americas Index released last week found 42% of Republicans support sending weapons and financial aid to Ukraine, while 60% of independents and 79% of Democrats say the same. 
Truth and Accuracy
We are committed to truth and accuracy in all of our journalism. Read our editorial standards.
Comment Down Below
Conversation