Commentary
NY Times Confirms Emails on Hunter Biden's Laptop Were Not Russian Disinformation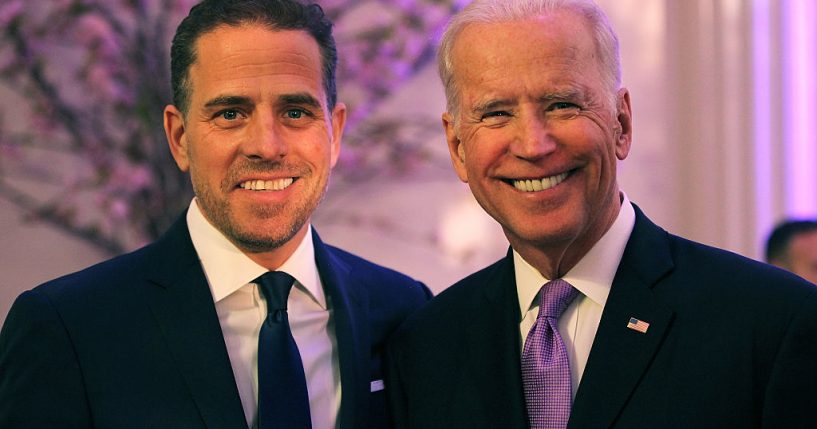 Remember the claim from the 2020 election that emails reportedly retrieved from Hunter Biden's laptop may have been part of a Russian disinformation campaign?
Well, according to The New York Times, it turns out that the laptop did belong to Hunter, President Joe Biden's son, and that the emails are authentic.
Included in a story published on Wednesday about an investigation into Hunter Biden's business dealings that mentions emails between him and his associates — which were apparently recovered from that same laptop– is a paragraph that confirms that the emails released in 2020 were real.
Advertisement - story continues below
"Those emails were obtained by The New York Times from a cache of files that appears to have come from a laptop abandoned by Mr. Biden in a Delaware repair shop. The email and others in the cache were authenticated by people familiar with them and with the investigation," the Times reports.
Reposting w correct date – Via @nytimes colleagues, a deep dive into the Hunter Biden investigation, including that the emails released in late 2020, and characterized as possible Russian disinformation by some, were authentic https://t.co/IwWPDPdjlS

— Maggie Haberman (@maggieNYT) March 17, 2022
In the midst of the 2020 presidential election, emails emerged that were reportedly recovered from a laptop that belonged to Hunter Biden and was dropped off at a computer repair shop in Wilmington, Delaware.
That fueled a story by The New York Post that alleged that Joe Biden was involved in the corrupt businesses dealings of Hunter Biden — although an investigation by The Wall Street Journal did not find evidence to substantiate those allegations. The Biden campaign also denied any wrongdoing.
Advertisement - story continues below
However, that does not mean that the allegedly shady business dealings of the son of a former vice president and current president of the United States were undeserving of scrutiny.
How the laptop came to light is a rather strange story that helped raise suspicions about the authenticity of the emails. The owner of the shop, Paul Mac Isaac, is legally blind and said he was not sure that it was the younger Biden who dropped off the laptop. But he reportedly identified himself as Hunter Biden when he dropped off the computer.
And that in part led Twitter to block the Post's account. Facebook also limited the distribution of the story until its fact-checkers evaluated the claims in it. Twitter users were blocked from even sharing the story.
Then came the whopper: More than 50 former intelligence officials claimed in a letter that the emails had "all the classic earmarks of a Russian information operation." While they provided no evidence to support their claim, the letter read, "If we are right, this is Russia trying to influence how Americans vote in this election, and we believe strongly that Americans need to be aware of this."
And that gave then-candidate Joe Biden just what he needed to avoid addressing the topic during a presidential debate.
Advertisement - story continues below
Watch the moment below:
Joe Biden claims that the Hunter Biden emails story is a Russian disinformation campaign despite the fact that the DOJ, FBI, and DNI said there was no evidence of that. pic.twitter.com/UzZMTmw1bq

— Daily Caller (@DailyCaller) October 23, 2020
Former President Donald Trump brought up the emails and claimed he was not an "innocent baby."
However, Joe Biden shot back, "There are 50 former national intelligence folks who said that what he's accusing me of is a Russian plant…Five former heads of the CIA, both parties, say what he's saying is a bunch of garbage."
Advertisement - story continues below
When Trump retorted, "You're telling me the laptop is another Russia, Russia, Russia hoax? You gotta be kidding me."
"That's exactly what we're told," Biden said.
That exchange didn't age well.
Current White House Press Secretary Jen Psaki also tweeted out the Politico article.
Advertisement - story continues below
Hunter Biden story is Russian disinfo, dozens of former intel officials say https://t.co/zRdHxTxVsl

— Jen Psaki (@jrpsaki) October 20, 2020
From the beginning, the allegation that the laptop was Russian disinformation seemed like a stretch. Were there Russian agents who went to a random computer shop in Delaware with a computer full of fake emails hoping that the computer would be discovered and become news? Were the officials alleging that the owner was a Russian agent?
Or perhaps, under this theory, the Russians assumed that some random shop owner would call up Trump associates to hand off the information. Those all seem like rather big bets.
Just as when Psaki declined to issue an apology for the Biden campaign labeling Kyle Rittenhouse a white supremacist, it would not be wise for one to hold their breath and wait for Biden or Psaki to acknowledge that the emails were not part of a Russian disinformation campaign.
Truth and Accuracy
We are committed to truth and accuracy in all of our journalism. Read our editorial standards.
Comment Down Below
Conversation