News
NYT Report Says 2021 Thanksgiving Meal Could Be 'The Most Expensive' in the 'History of the Holiday'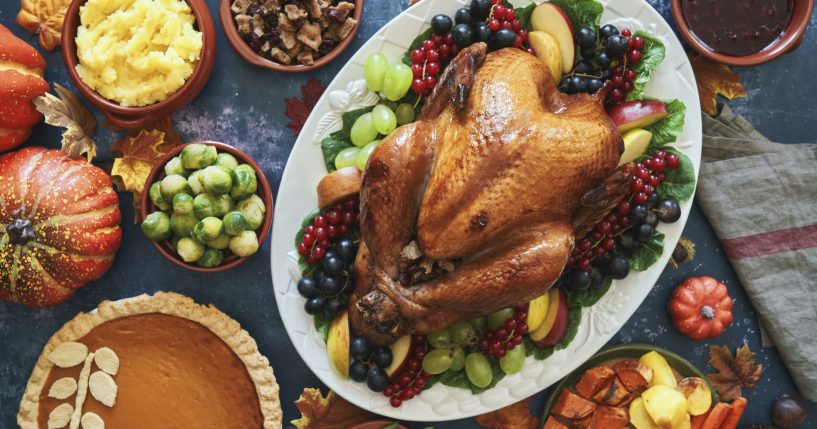 A new report suggests that Americans should expect to pay more for every aspect of their Thanksgiving meal this year.
According to The New York Times, "Thanksgiving 2021 could be the most expensive meal in the history of the holiday."
"Nearly every component of the traditional American Thanksgiving dinner, from the disposable aluminum turkey roasting pan to the coffee and pie, will cost more this year, according to agricultural economists, farmers, and grocery executives. Major food companies like Nestlé and Procter & Gamble have already warned consumers to brace for more price increases," the report added.
Advertisement - story continues below
While the report notes that in 2020 prices were "kept low to entice shoppers," it added, "This year, turkey prices are likely to hit record highs, and the cost of many foods has jumped sharply."
It continued, "There is no single culprit. The nation's food supply has been battered by a knotted supply chain, high transportation expenses, labor shortages, trade policies, and bad weather. Inflation is at play, too. In September, the Consumer Price Index for food was up 4.6 percent from a year ago. Prices for meat, poultry, fish, and eggs soared 10.5 percent."
Additionally, it is expected that the price per pound for a turkey will pass the 2015 record of $1.36.
The Times explains the price for turkey is expected to rise "because the price of corn, which most commercial turkeys feed on, more than doubled in some parts of the country from July 2020 to July 2021." Additionally, the paper says that there are likely to be fewer turkeys available but increased demand for them this year.
Advertisement - story continues below
Some other items that could cost more include dinner rolls "because the cost of almost all of the ingredients that commercial bakers use has gone up."
"Canned cranberry sauce will cost more because domestic steel plants have yet to catch up after pandemic shutdowns, and China is limiting steel production to reduce carbon emissions. As a result, steel prices have remained more than 200 percent higher than they were before the pandemic," the report added.
According to the Times, other extreme weather events damaged crops or shut down factories leading to further price increases.
Finally, the paper assured readers that "there is no indication the panic buying that was a hallmark of pandemic shopping in 2020 will resurface."
In August, core inflation rose by 3.6% marking the largest increase in 30 years as supply chain issues, and high demand drove prices up.
Advertisement - story continues below
While administration officials have claimed the inflation is "transitory," Treasury Secretary Janet Yellen told CNN she expects that "the inflation rate will remain high into next year because of what's already happened."
Truth and Accuracy
We are committed to truth and accuracy in all of our journalism. Read our editorial standards.
Comment Down Below
Conversation