News
NYT Calls on Feinstein to Resign: 'Senate Seats Are Not Lifetime' Positions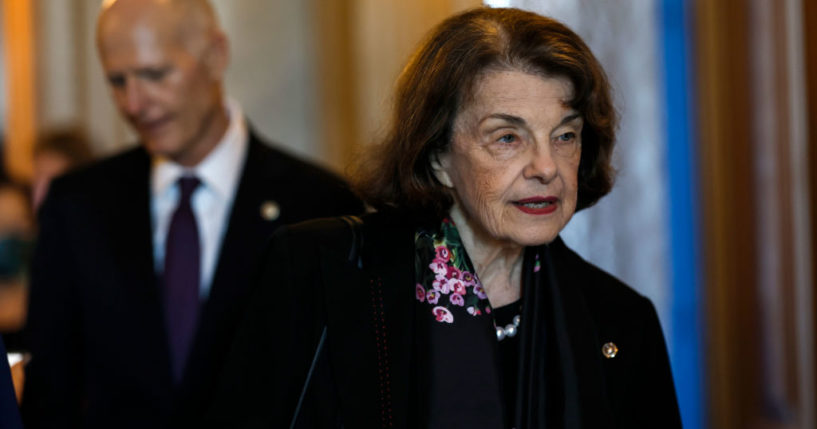 A major paper's editorial board is joining the calls for Sen. Dianne Feinstein (D-Calif.) to resign due to her absence from the chamber.
In a column published on Friday, The New York Times' editorial board wrote, "[Feinstein] has had a distinguished career in the U.S. Senate, but her infirmities and illness now force her — and Senate leaders like Charles Schumer — to make a painful choice."
"At age 89, Ms. Feinstein is now the Senate's oldest member, and health issues have kept her out of Washington and the Senate chamber for more than two months, at a time when vital legislation and judicial nominations are hanging on a knife's edge," it continued.
Advertisement - story continues below
The column went on:
"If she cannot fulfill her obligations to the Senate and to her constituents, she should resign and turn over her responsibilities to an appointed successor. If she is unable to reach that decision on her own, Mr. Schumer, the majority leader, and other Democratic senators should make it clear to her and the public how important it is that she do so."
The editorial board noted senators "play many roles in shaping legislation and policy."
"But they have one primary and inescapable duty: They must show up in person to vote in the chamber. If they cannot do that for extended periods, they are depriving their constituents — and California has 39 million of them — of a voice and of fundamental representation," it added.
Advertisement - story continues below
Additionally, the Times noted Feinstein's absence has made it difficult for Democrats to advance nominations to the Senate floor. The column pointed out proxy voting is allowed for committees. However, a proxy vote cannot be the deciding vote for the committee if there is an even split.
Turning to the senator's health concerns, the column highlights reports about Feinstein failing to keep up with conversations, struggling with deteriorating memory, and not recognizing her colleagues.
Do you think Feinstein will resign?
"She's announced that she will not run for re-election in 2024, but until then, her staff is, in effect, assuming the authority entrusted to her by California's voters," it added.
The editorial board argued Feinstein's stated plan to return to the Senate has put Democratic leaders in a "difficult position" by not officially laying out a timeline for when she plans to return to the Senate.
It suggested Senate Majority Leader Chuck Schumer (D-N.Y.) should "turn up the public pressure on her to return or resign, setting aside the antique Senate gentility that can hobble common-sense decision making there."
Advertisement - story continues below
Finally, the column stated, "Senate seats are not lifetime sinecures, and if members can't effectively represent their constituents or work for the benefit of their country, they should not hesitate to turn the job over to someone who can. Ms. Feinstein owes California a responsible decision."
Feinstein has resisted calls for her resignation due to her absence from the Senate.
In a statement in April, the senator said, "When I was first diagnosed with shingles, I expected to return by the end of the March work period. Unfortunately, my return to Washington has been delayed due to continued complications related to my diagnosis."
"I intend to return as soon as possible once my medical team advises that it's safe for me to travel. In the meantime, I remain committed to the job and will continue to work from home in San Francisco," she added.
Advertisement - story continues below
The Times' column comes as four House Democrats, as of Friday morning, have called for Feinstein to resign.
Truth and Accuracy
We are committed to truth and accuracy in all of our journalism. Read our editorial standards.
Comment Down Below
Conversation