News
Obama: The Idea of 'Open Borders' Is 'Unsustainable'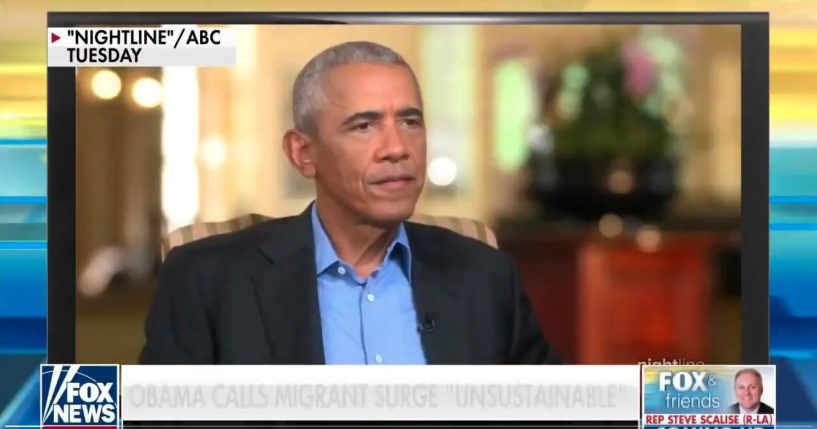 Former President Barack Obama insists that an open border immigration policy is "unsustainable."
During an interview with ABC News, Obama said, "Immigration is tough. It always has been. Because on the one hand, I think we are naturally a people that wants to help others."
"At the same time, we're a nation-state. We have borders. The idea that we can just have open borders is something that I think as a practical matter is unsustainable," he added.
Advertisement - story continues below
Watch the video below:
Obama takes a shot at Biden's border crisis: "The idea that we can just have open borders" is "unsustainable" pic.twitter.com/UswX9n4Gqi

— The Post Millennial (@TPostMillennial) September 29, 2021
Obama's comments come as the U.S. has experienced a surge in border crossings at the southern border. In July, the number of apprehensions at the border reached a two-decade high.
And in August, Customers and Border Protection apprehended over 200,000 people trying to cross the border.
Advertisement - story continues below
As ABC News reports, "Last year, CBP made 50,014 apprehensions, just a fraction of this August's number. In 2019, there were 62,707 apprehensions and the number was even smaller — 46,719 — in 2018."
Last month, Homeland Security Secretary Alejandro Mayorkas said, "The situation at the border is one of the toughest challenges we face."
"It is complicated, changing, and involves vulnerable people at a time of a global pandemic," he added.
In leaked audio obtained by Fox News in August, Mayorkas told Border Patrol agents, "A couple of days ago I was down in Mexico, and I said look, you know, if, if our borders are the first line of defense, we're going to lose and this is unsustainable."
"We can't continue like this, our people in the field cant continue, and our system isn't built for it," he added.
Advertisement - story continues below
One agent could be heard in the audio tell the secretary, "We've had this happen before. We know exactly how to shut it down. We need to make illegal entry illegal."
Former Rep. Tulsi Gabbard (D-Hawaii) blasted Biden for his handling of the border as she claimed, "The humanitarian and national security crisis on the southern border is the direct result of your open-border policy."
"As I said in my 2020 presidential campaign, we can't have a secure nation if we don't secure our borders," she added.
Truth and Accuracy
We are committed to truth and accuracy in all of our journalism. Read our editorial standards.
Comment Down Below
Conversation