Obama Points To Trump as Person To Blame for US Capitol Violence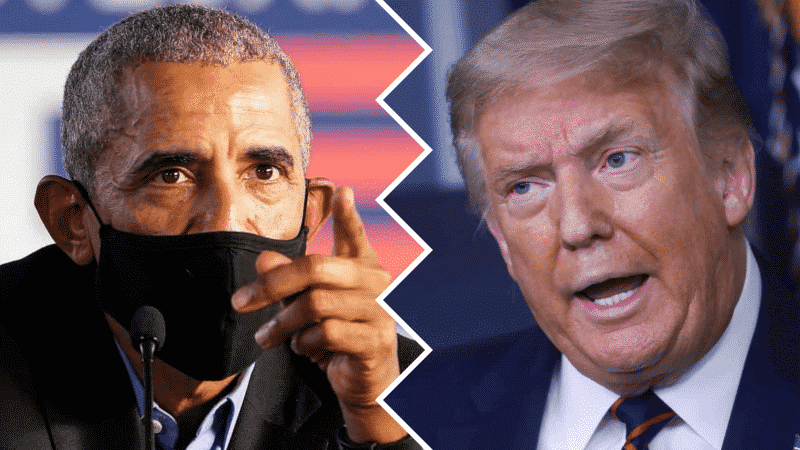 Violence broke out at the U.S. Capitol, and former President Barack Obama is placing the blame squarely on the "sitting president."
Touching on the violent protests that broke out in the nation's capital on Wednesday where Trump supporters stormed the U.S. Capitol, Obama said the day "incited by a sitting president," will be remembered as "a moment of great dishonor and shame for our nation."
In the statement Obama posted to Twitter late Wednesday, the former president bashed those in the Republican Party who have rejected Joe Biden as the winner over the past two months.
"Their fantasy narrative has spiraled further and further from reality, and it builds upon years of sown resentments," he wrote. "Now we're seeing the consequences, whipped up into a violent crescendo."
See Obama's full statement below:
Here's my statement on today's violence at the Capitol. pic.twitter.com/jLCKo2D1Ya

— Barack Obama (@BarackObama) January 7, 2021
Obama added that Republican leaders have two choices: To "keep stoking the raging fires" or "choose reality and take the first steps toward extinguishing the flames."
"They can choose America," he said.
The protests brought a halt temporarily to the joint session of Congress — where Biden's win was later certified. The Capitol was stormed shortly after Trump spoke at a "Save America" rally in Washington, D.C.
Sen. Lindsey Graham (R-S.C.), an ally of Trump, said during his speech on the Senate floor Wednesday night, "Trump and I, we had a hell of a journey. I hate it being this way. Oh my god I hate it…but today all I can say is count me out. Enough is enough. I tried to be helpful."
Obama was not the only former president who spoke out following the protests at the Capitol.
Former President George W. Bush condemned the violence at the Capitol, saying in a statement, "It is a sickening and heartbreaking sight. This is how election results are disputed in a banana republic — not our democratic republic."
He also said, "I am appalled by the reckless behavior of some political leaders since the election and by the lack of respect shown today for our institutions, our traditions, and our law enforcement."
Additionally, former President Bill Clinton said in his statement, "Today we faced an unprecedented assault on our Capitol, our Constitution, and our country. The assault was fueled by more than four years of poison politics spreading deliberate misinformation, sowing distrust in our system, and pitting Americans against one another."
"The match was lit by Donald Trump and his most ardent enablers, including many in Congress, to overturn the results of an election he loss," Clinton added.
He also wrote:
"I have always believed that America is made up of good, decent people. I still do. If that's who we really are, we must reject today's violence, turn the page, and move forward together—honoring our Constitution, remaining committed to a government of the people, by the people, and for the people."
Former President Jimmy Carter also said in a statement, "This is a national tragedy and is not who we are as a nation."
"Having observed elections in troubled democracies worldwide, I know that we the people can unite to walk back from this precipice to peacefully uphold the laws of our nation, and we must," Carter added. "We join our fellow citizens in praying for a peaceful resolution so our nation can heal and complete the transfer of power as we have for more than two centuries."
Trump posted a video on Twitter on Wednesday, where he told protesters to "go home in peace," as IJR reported. His Twitter account was later temporarily locked for "12 hours following the removal" of three tweets, Twitter wrote in a statement, saying those tweets were "repeated and severe violations of our Civic Integrity policy."
In a statement posted to Twitter by White House deputy chief of staff for communications and social media director Dan Scavino on behalf of the president at around 4 a.m. EST on Thursday, Trump said, "Even though I totally disagree with the outcome of the election, and the facts bear me out, nevertheless there will be an orderly transition on January 20th."