News
Police Officer Cracks a Joke About Claims Jan. 6 Riot Looked Like a Tourist Visit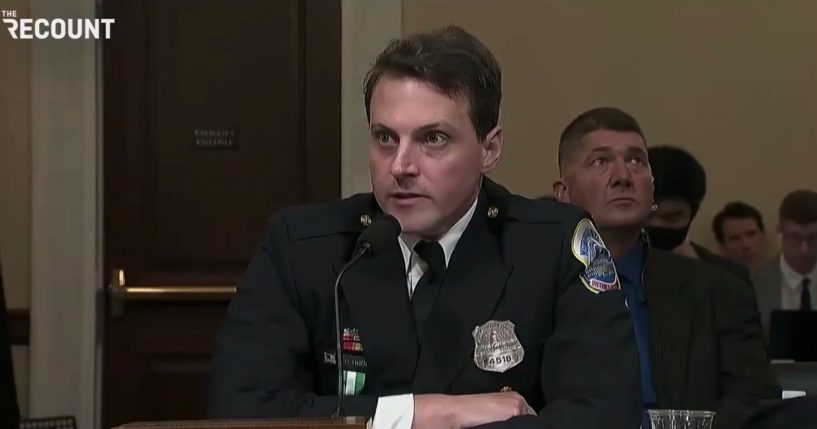 Washington, D.C., Police Officer Daniel Hodges, who helped defend the U.S. Capitol on Jan. 6, is laughing at some Republicans' assertion that the riot looked like a "tourist visit."
Hodges was asked during a hearing before the select committee investigating the riot on Tuesday, "What do you think about our colleagues who think we should call them tourists?"
He waited for a few seconds then responded, "Well, if that's what American tourists are like, I can see why foreign countries don't like American tourists."
Advertisement - story continues below
Watch the video below:
Officer Daniel Hodges responds to Rep. Andrew Clyde (R-GA) comparing insurrection to a "normal tourist visit."

"If that's what American tourists are like, I can see why foreign countries don't like American tourists," he says. pic.twitter.com/JnT0ukxMNw

— The Recount (@therecount) July 27, 2021
Videos from the day show rioters breaking windows and entering the building. However, some of those who entered the building claim that law enforcement simply let them enter the building and did not tell them they were not allowed to be there.
Additionally, at least 140 police officers were injured while they battled the rioters.
Advertisement - story continues below
However, Rep. Andrew Clyde (R-Ga.) has a different view of the day.
"Let's be honest with the American people, it was not an insurrection. And we cannot call it that and be truthful," he said in May. "The Cambridge English dictionary defines an insurrection as, and I quote, 'an organized attempt by a group of people to defeat their government and take control of their country, usually by violence.'"
Did the riot look like a tourist visit?
He continued, "There was an undisciplined mob. And there were some who committed acts of vandalism. But let me be clear: There was no insurrection. And to call it an insurrection, in my opinion, is a bald-faced lie."
Finally, Clyde claimed, "Watching the TV footage of those who entered Capitol and walked through Statutory Hall showed people in an orderly fashion staying between the stanchions and ropes taking videos and pictures. You know, if you didn't know the TV footage was a video from January the sixth, you would actually think it was a normal tourist visit."
Truth and Accuracy
We are committed to truth and accuracy in all of our journalism. Read our editorial standards.
Conversation