News
Olivia Rodrigo Slams Supreme Court Justices for Overturning Roe v Wade: 'We Hate You!'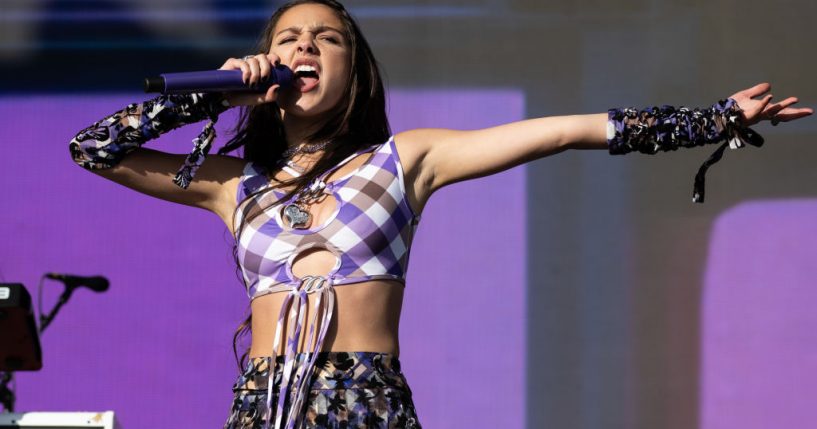 Singer Olivia Rodrigo made a bold statement over the weekend at the Glastonbury Festival in England after the Supreme Court overturned Roe vs. Wade.
During her performance on Saturday, Rodrigo brought singer-songwriter Lily Allen on stage to sing her 2009 hit song, "F*** You," which they dedicated to the Supreme Court justices.
"Today is a very, very special day. This is actually my first Glastonbury, and I'm sharing the stage with Lily which is the biggest dream come true ever. But I'm also equally as heartbroken over what happened in America yesterday," Rodrigo said, per Fox News.
Advertisement - story continues below
The singer said, "The Supreme Court decided to overturn Roe v Wade which is a law that ensures a woman's right to a safe abortion, another basic human right."
She continued, "I'm devastated and terrified and so many women and so many girls are going to die because of this and I wanted to dedicate this next song to the five members of the Supreme Court who have showed us that at the end of the day they truly don't give a s*** about freedom."
Rodrigo also said:
"This song goes out to the justices Samuel Alito, Clarence Thomas, Neil Gorsuch, Amy Coney Barrett, and Brett Kavanaugh. We hate you!"
Advertisement - story continues below
Forty-nine years ago, the U.S. Supreme Court ruled that extreme restrictive state regulation of abortion is unconstitutional, according to Britannica.
Do you support the Supreme Court's decision?
Psalm 127:3 tells us, "Children are a gift from the LORD; they are a reward from Him."
Rodrigo has been vocal in the past about her support of abortion rights for women.
In March, during her performance in Washington, D.C., she told her audience, "Our bodies should never be in the hands of politicians. I hope we can raise our voices to protect our right to have a safe abortion, which is a right that so many people before us have worked so hard to get," according to NPR.
Truth and Accuracy
We are committed to truth and accuracy in all of our journalism. Read our editorial standards.
Comment Down Below
Conversation