Commentary
OPEC Announces Plan to Cut Oil Production – Could Fuel Rise in Gas Prices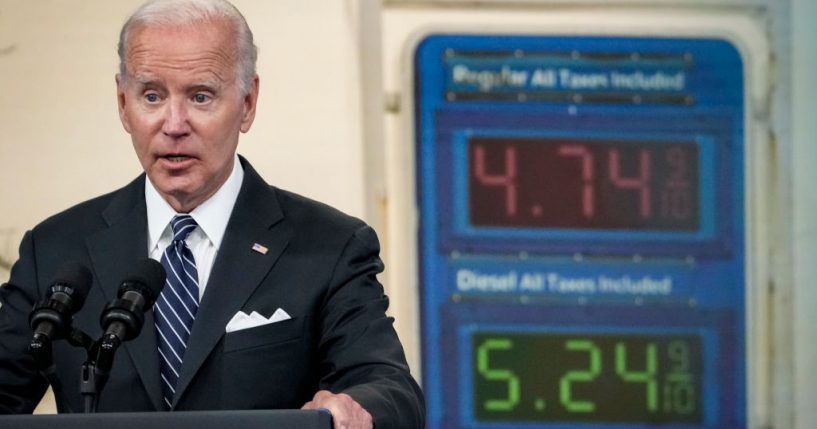 Oil prices could get another jolt as OPEC revealed members will not be producing more oil — in fact, they will be doing quite the opposite.
OPEC and non-OPEC allies, also referred to as OPEC+, announced on Wednesday they will cut oil production by 2 million barrels a day starting in November.
It is seen as an effort to drive up crude prices, which have fallen to $80 a barrel from $120 in June.
Advertisement - story continues below
Rice University's Jim Krane told Axios the move is likely the result of market cooperation between Russia and Saudi Arabia, which developed as the U.S. increased its shale production.
The move cannot be welcome news for Democrats as it could lead to higher gas prices in the U.S., after a nearly 100-day stretch of falling prices.
According to AAA, the national average for a regular gallon of gas as of Wednesday is $3.83, up from $3.78 a month ago.
President Joe Biden reacted to the move on Wednesday as he told reporters, "I am concerned, it is unnecessary."
Advertisement - story continues below
And he has a good reason to be concerned.
In a statement reacting to the OPEC news, the White House said, "The Department of Energy will deliver another 10 million barrels from the Strategic Petroleum Reserve to the market next month, continuing the historic releases the President ordered in March."
Do you think prices will keep going up?
"The President will continue to direct SPR releases as appropriate to protect American consumers and promote energy security, and he is directing the Secretary of Energy to explore any additional responsible actions to continue increasing domestic production in the immediate term," it added.
Patrick De Haan, an analyst at Gas Buddy, predicts the move will add an extra 15 to 30 cents to the expected average gas prices in the winter.
As a result of OPEC's production cut, I estimate U.S. #gasprices will be impacted by roughly 15-30c/gal

— Patrick De Haan ⛽️📊 (@GasBuddyGuy) October 5, 2022
Advertisement - story continues below
Winter does come after the midterms, so Democrats may not be facing the worst of the gas price increases when the election comes along.
But the reversal in the slide in gas prices and uncertainty about the future can't be good for their messaging in the final weeks before voters go to the polls.
During the summer months, as gas prices were decreasing and it appeared inflation might be easing, Democrats had some ground to argue that Americans faced pain, but their policies were working, and the worst was beyond them.
However, with August's inflation report higher than expected and gas prices going back up, Republicans can hammer home the idea that Democrats' failed and high prices are here to stay — especially if Democrats keep control of Congress.
Advertisement - story continues below
Even though Biden and Democrats are not solely behind gas prices or inflation, having stories focusing on higher prices will likely make it harder for Democrats to go on TV and talk about threats to democracy or abortion access. Instead, they're probably going to be asked what more can be done to bring down prices and why previous measures have not worked.
Biden can keep releasing oil from the Strategic Petroleum Reserve. Still, with the reserve at its lowest level in decades, at some point, officials will have to ask when they plan to stop using a resource meant for actual emergencies to keep gas prices low artificially.
While the gas price increases may not be felt until after the election, the news of OPEC's production cut is another factor that Democrats have to look at it as yet another headwind.
Truth and Accuracy
We are committed to truth and accuracy in all of our journalism. Read our editorial standards.
Comment Down Below
Conversation