News
Rand Paul Grills Blinken on Report US Drone Strike in Afghanistan Killed an Aid Worker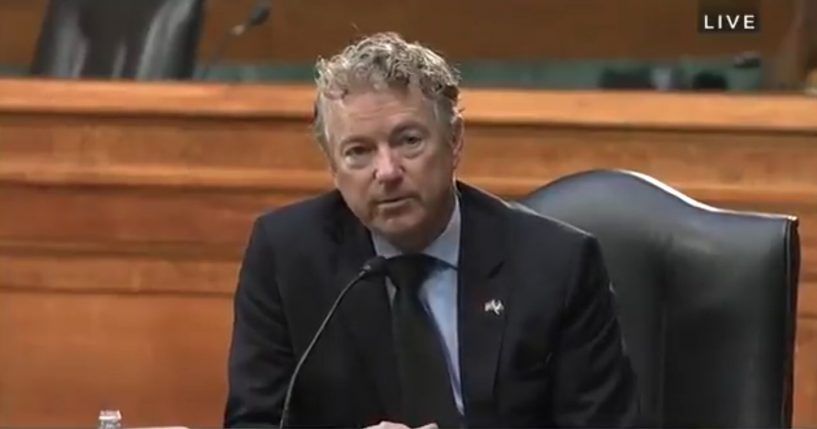 Sen. Rand Paul (R-Ky.) confronted Secretary of State Antony Blinken over a report that a U.S. drone strike in Afghanistan killed an aid worker.
Paul asked Blinken during a Senate hearing on Tuesday, "The guy the Biden administration droned: was he an aid worker or an ISIS-K operative?"
"The administration is of course reviewing that strike and I'm sure that a full assessment will be forthcoming," Blinken said.
Advertisement - story continues below
When the Kentucky senator asked again, Blinken said he could not share that information in a public setting.
He asked, "So you don't know or won't tell us?"
"I don't know because we're reviewing it," Blinken
Paul fired back, "Well, see you think you'd kind of know before you off somebody with a predator drone whether he's an aid worker or he is an ISIS-K [operative.]"
Advertisement - story continues below
He continued, "I don't know if it's true, but I see these pictures of these beautiful children that were killed in the attack. If that's true, and not propaganda. If that's true, guess what, maybe you created hundreds or thousands of new potential terrorists from bombing the wrong people."
"So you gotta know who you're… we can't sorta have an investigation after we kill people. We have an investigation before we kill [people]," he added.
Watch the video below:
Paul's line of questioning appeared to refer to an investigation by The New York Times into an Aug. 29 drone strike in Afghanistan against a vehicle that officials believed was carrying a bomb.
Advertisement - story continues below
The Times reviewed video evidence and interviewed "more than a dozen of the driver's co-workers and family members."
The paper says the investigation, "Raises doubts about the U.S. version of events, including whether explosives were present in the vehicle, whether the driver had a connection to ISIS, and whether there was a second explosion after the missile struck the car."
U.S. officials deemed the driver of the car suspicious "because of how they interpreted his activities that day."
But the Times identified the driver as Zemari Ahmadi, a longtime worker for a U.S. aid group, and said that his "travels that day actually involved transporting colleagues to and from work." Additionally, video showed Ahmadi putting a canister of water into the trunk of his car.
Advertisement - story continues below
Pentagon officials previously said the strike was "righteous" and based on intelligence that suggested there could be another attack at the Hamid Karzai International Airport.
Truth and Accuracy
We are committed to truth and accuracy in all of our journalism. Read our editorial standards.
Comment Down Below
Conversation