News
Rand Paul Calls Omicron Variant 'Nature's Vaccine'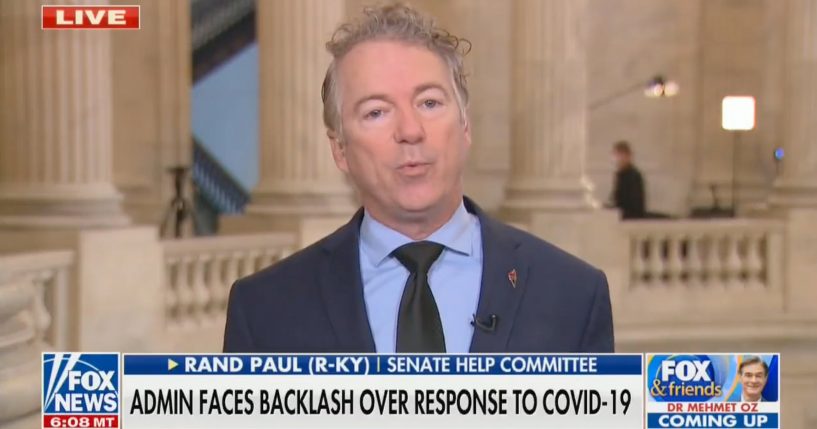 As the U.S. has shattered records for the number of new infections of COVID-19 recorded daily, Sen. Rand Paul (R-Ky.) sees a potential upside to the emergence of the omicron variant.
During an appearance on "Fox & Friends" Wednesday, Paul said, "We've got 150 million people in our country that have already had this. Now in the last couple weeks, we're adding millions of people every week who have already gotten this."
"And the one thing we know is that if you get this mild variant, the omicron, it actually is going to protect you against the more serious variants. This is basically nature's vaccine that is running through the community. That doesn't mean that some of our vulnerable people may not suffer and die from this. We should be trying to protect the vulnerable," he added.
Advertisement - story continues below
Watch the video below:
Sen. @RandPaul told @foxandfriends that he believes the Omicron variant is "basically nature's vaccine that is running through the community." pic.twitter.com/55xosRlzEc

— Mediaite (@Mediaite) January 5, 2022
The highly transmissible omicron variant, which was discovered in late November, is able to evade immunity from vaccination or infection.
According to a study from the University of Hong Kong, the variant multiples in human bronchial tubes 70 times faster than the delta variant or original COVID-19 strain. However, the study also suggested that the omicron variant may be less severe than other strains.
Advertisement - story continues below
Still, Michael Chan Chi-wai, the study's principal investigator, said, "Taken together with our recent studies showing that the omicron variant can partially escape immunity from vaccines and past infection, the overall threat from omicron variant is likely to be very significant."
Paul's comments appeared to refer to a study from the Africa Health Research Institute that said people infected with omicron may receive some protection against the delta variant.
The Kentucky senator's statement comes as coronavirus cases continued to surge in the U.S. On Tuesday, the country reported 885,541 new infections of the virus. That brings the average number of new daily infections to 547,613, a 254% increase from the previous 14 days.
Truth and Accuracy
We are committed to truth and accuracy in all of our journalism. Read our editorial standards.
Comment Down Below
Conversation