Pelosi, AOC, Sanders Side With Trump in Call for Bigger Stimulus Checks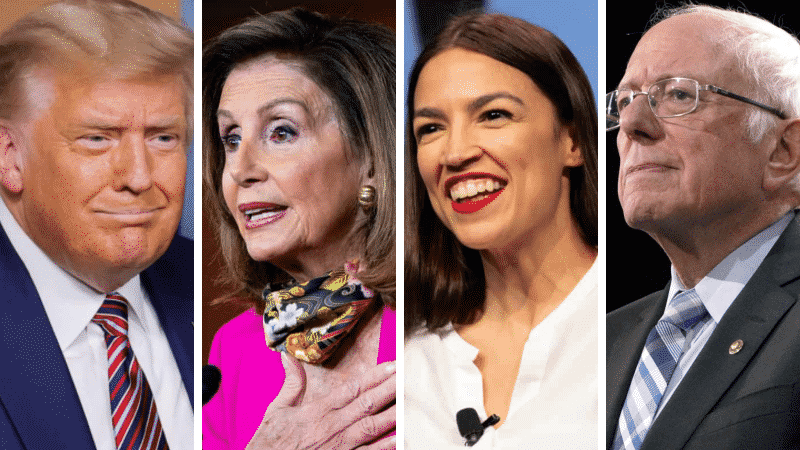 Democratic Congress members are backing President Donald Trump's call for bigger stimulus checks, a rare move by the liberal lawmakers in supporting Trump.
Trump tore into the new COVID-19 relief package passed by Congress on Tuesday evening, as IJR reported. He called the nearly $900 billion relief bill a "disgrace" and hinted that he would not sign it.
The spending bill has a big price tag — $1.4 trillion for keeping the government open and an $892 billion coronavirus relief package. The coronavirus relief bill includes $600 stimulus checks to most Americans.
After noting what is included in the spending bill, Trump said in a video posted to Twitter Tuesday night, "Despite all of this wasteful spending, and much more, the $900 billion package provides hard-working taxpayers with only $600 each in relief payments."
Trump later added, "I'm asking Congress to amend this bill and increase the ridiculously low $600 to $2,000 or $4,000 for a couple."
"Let's do it!" House Speaker Nancy Pelosi (D-Calif.) wrote in agreement with Trump.
She wrote in response on Twitter, "Republicans repeatedly refused to say what amount the President wanted for direct checks. At last, the President has agreed to $2,000 — Democrats are ready to bring this to the Floor this week by unanimous consent."
Republicans repeatedly refused to say what amount the President wanted for direct checks. At last, the President has agreed to $2,000 — Democrats are ready to bring this to the Floor this week by unanimous consent. Let's do it! https://t.co/Th4sztrpLV

— Nancy Pelosi (@SpeakerPelosi) December 23, 2020
Sen. Bernie Sanders (I-Vt.) also weighed in, responding to Pelosi's tweet, "That's great!"
After noting a previous bill introduced to provide $2,000 in direct payment, Sanders tweeted, "Now, Mr. President, get Mitch McConnell and your Republican friends to stop opposing it and we can provide working class Americans with $2,000. Let's do it."
That's great! I first introduced a bill to provide a $2,000 direct payment with @SenKamalaHarris & @EdMarkey 7 months ago. Now, Mr. President, get Mitch McConnell and your Republican friends to stop opposing it and we can provide working class Americans with $2,000. Let's do it. https://t.co/fKvqBsqM0k

— Bernie Sanders (@BernieSanders) December 23, 2020
Rep. Alexandria Ocasio-Cortez (D-N.Y.) reiterated, "Let's do it."
She then noted that she and Rep. Rashida Tlaib (D-Mich.) "already co-wrote the COVID amendment for $2,000 checks, so it's ready to go."
"Glad to see the President is willing to support our legislation," Ocasio-Cortez tweeted. "We can pass $2k checks this week if the Senate GOP agrees to stand down."
Let's do it. @RashidaTlaib and I already co-wrote the COVID amendment for $2,000 checks, so it's ready to go.

Glad to see the President is willing to support our legislation.

We can pass $2k checks this week if the Senate GOP agrees to stand down. https://t.co/GprwrUPali pic.twitter.com/nFFs1ExqCK

— Alexandria Ocasio-Cortez (@AOC) December 23, 2020
Me and @AOC have the amendment ready. Send the bill back, and we will put in the $2,000 we've been fighting for that your party has been blocking. pic.twitter.com/GGXtJt77D9

— Rashida Tlaib (@RashidaTlaib) December 23, 2020
Senate Minority Leader Chuck Schumer (D-N.Y.) responded to Ocasio-Cortez's tweet, writing, "I'm in."
He then directed his message to Senate Majority Leader Mitch McConnell (R-Ky.), "Whaddya say, Mitch? Let's not get bogged down with ideological offsets and unrelated items and just DO THIS! The American people deserve it."
I'm in. Whaddya say, Mitch? Let's not get bogged down with ideological offsets and unrelated items and just DO THIS! The American people deserve it. @senatemajldr https://t.co/L1b5rUkc7h

— Chuck Schumer (@SenSchumer) December 23, 2020
Rep. Ilhan Omar (D-Minn.) also tweeted, "Negotiating everything into one bill is how we got here, since Trump wants to sign a bill with survival checks, let's send one to his desk right away."
We need to send a clean bill with just $2,000 survival checks and a separate spending/covid relief bill.

Negotiating everything into one bill is how we got here, since Trump wants to sign a bill with survival checks, let's send one to his desk right away.

— Ilhan Omar (@IlhanMN) December 23, 2020
Mitch don't be the only reason people don't get $2000, let's do this. https://t.co/yuvsYUQX6m

— Ilhan Omar (@IlhanMN) December 23, 2020
It was not only Democratic lawmakers who weighed in. Sen. Josh Hawley (R-Mo.) declared on Twitter, "[Donald Trump] is right," adding, "Workers deserve much more than $600, as I have repeatedly said [and] fought for."
He added, "And there's obviously plenty of [money] to do it – look at what Congress threw away on corporate giveaways [and] foreign buyouts. Let's get it done."