Pelosi Says Dems Will 'Wholeheartedly' Support Whoever the Nominee Is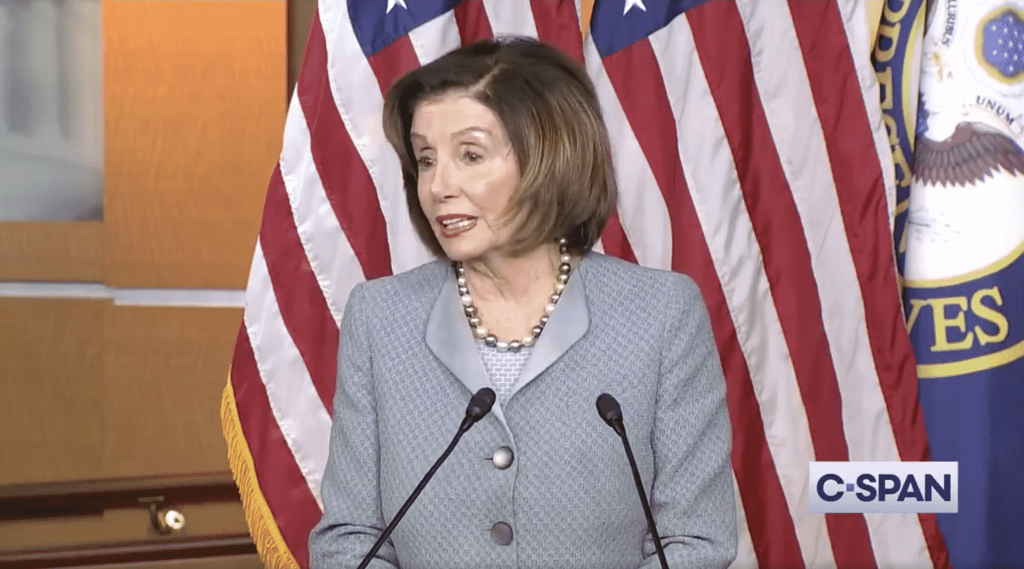 House Speaker Nancy Pelosi (D-Calif.) sought to put to rest questions about how supportive she would be of Sen. Bernie Sanders (Vt.) if he won the Democratic presidential nomination.
During her weekly press conference on Thursday, Pelosi said her caucus would "wholeheartedly" support whoever the nominee is.
"Contrary to what you may be hearing or writing, we are all unified. Whoever the nominee is of our party, we will wholeheartedly support."
Watch the video below:
.@SpeakerPelosi on possibility of @BernieSanders winning Democratic nomination: "Our responsibility is to win the House. We know how to win…We are all unified. Whoever the nominee is of our party. We will wholeheartedly support our gospel as one of unity. Unity. Unity." pic.twitter.com/QKC0mClfL6

— CSPAN (@cspan) February 27, 2020
As Sanders has emerged as the front-runner for the Democratic nomination, moderate Democratic members of Congress have reportedly grown anxious that he could hurt their chances at re-election.
During the Democratic debate on Feb. 25, former South Bend, Ind. Mayor Pete Buttigieg warned that Sanders would not only lose the race for the White House but also cost Democrats their majority in the House, as IJR has previously reported.
Rep. Jim Clyburn (D-S.C.), who has endorsed former Vice President Joe Biden, also said Sanders would be a "burden" for down-ballot candidates across the country.
However, on Thursday, Pelosi dismissed fears that Sanders would harm Democratic candidates' chances.
"Our responsibility is to win the House. We know how to win, we've demonstrated that in the most gerrymandered, voter suppressed political arena you can name. And yet, we net gained 40 seats in the last election. By owning the ground with our mobilization, not yielding one grand of sand. By a message of bold, progressive agenda that was mainstream and non-menacing."
Additionally, Pelosi noted that "the presidential is its own race" and she is focused on making sure that members of her caucus win re-election.
"Our responsibility is to make sure that those who were elected last time return to Congress, keep the majority, and add to our numbers."
On Wednesday, Pelosi signaled that she would be comfortable if Sanders won the nomination, and added that she was not concerned about that possibility. 
While Pelosi has said she is not concerned, some Democrats have said they are worried that Sanders would lose the election to Trump and cost the party its majority in the House.
Published in IJR, News