News
Pelosi Is 'Not Giving Up' Hope That Manchin Will Vote for Dems' Election Reform Bill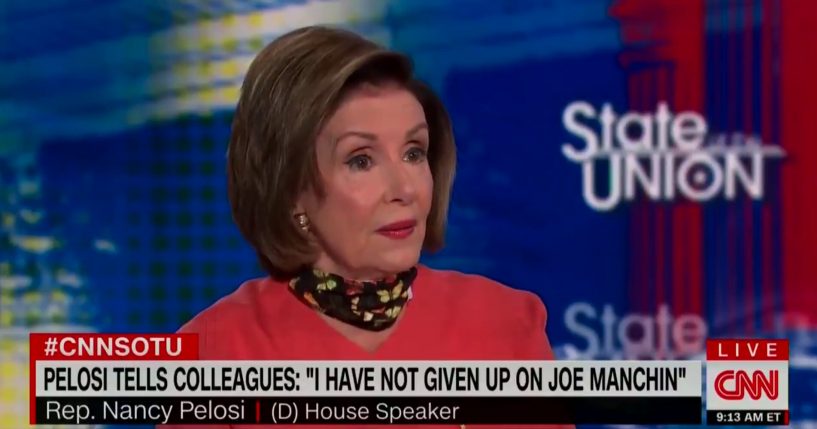 House Speaker Nancy Pelosi (D-Calif.) remains hopeful that Sen. Joe Manchin (D-W.Va) will support Democrats' sweeping election reform bill despite his public opposition to it.
During an interview on CNN's "State of the Union" Sunday, Pelosi said she read Manchin's op-ed in which he stated he would vote against the For the People Act, but that she does not view his comments as foreclosing the chance that he might for the bill if it was modified.
"I read the op-ed… I think he left the door open, I think it's ajar," Pelosi said.
Advertisement - story continues below
Host Dana Bash asked if Pelosi has some knowledge about Manchin's thinking that other Democrats do not.
She said, "I don't know anything specific about this. But I do know that he has specific concerns about the legislation that we may be able to come to terms on."
Bash interjected to ask if Manchin's opposition is "bridgable"
"I think so. As I said to him, you left the door open and we're going to go right in," Pelosi said.
Advertisement - story continues below
Watch the video below:
Nancy Pelosi says she's been in touch with Joe Manchin about HR1 and believes there's still a possibility he'll support it pic.twitter.com/Kv5H2i7oQ7

— Aaron Rupar (@atrupar) June 13, 2021
Pelosi's comments come a week after Manchin wrote in an op-ed that he would vote against the For the People Act, as IJR reported.
"The right to vote is fundamental to our American democracy, and protecting that right should not be about party or politics. Least of all, protecting this right, which is a value I share, should never be done in a partisan manner," Manchin wrote.
Advertisement - story continues below
He continued, "Unfortunately, we now are witnessing that the fundamental right to vote has itself become overtly politicized. Today's debate about how to best protect our right to vote and to hold elections, however, is not about finding common ground, but seeking partisan advantage."
Finally, he said, "I will vote against the For the People Act. Furthermore, I will not vote to weaken or eliminate the filibuster."
As The Washington Post reports, Democrats saw Manchin's op-ed as crushing their hopes of passing their "marquee voting rights bill."
Manchin met with civil rights leaders after his op-ed but said he remained opposed to the legislation.
Truth and Accuracy
We are committed to truth and accuracy in all of our journalism. Read our editorial standards.
Conversation