News
Pelosi Snaps at Reporter Over Question About Debt Ceiling Increase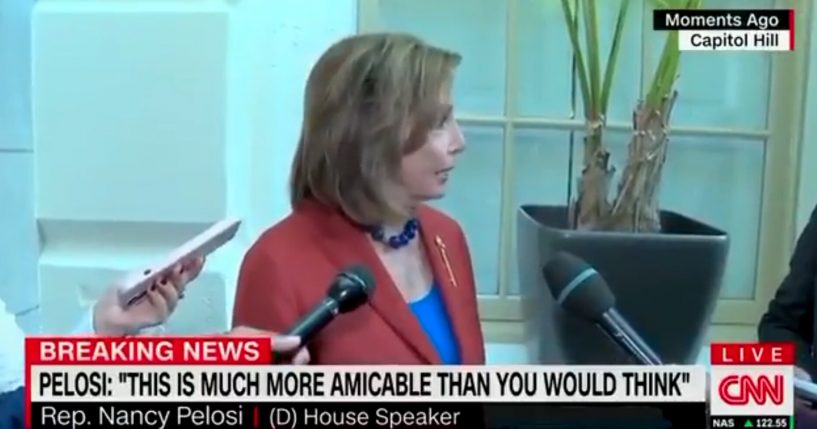 House Speaker Nancy Pelosi (D-Calif.) gave a terse response when asked why House members should be pressured to vote for a debt ceiling increase when its path forward in the Senate is unclear.
On Wednesday, Pelosi was asked why she would pressure moderate House members to vote for a debt ceiling increase when it appears that the bill may not pass the Senate.
"What are you talking about?" Pelosi responded. "We have a responsibility to uphold, to lift up the full faith and credit of the United States of America. That's what we have to do. These members have all voted for this last week. So if they're concerned about how it might be in an ad, it's already in an ad. It's already in an ad."
Advertisement - story continues below
She continued, "So let us give every confidence, every step of the way that we will do that. We cannot predicate our actions in the House on what could happen in the Senate. We can when we're coming to agreement on a bill. But in terms of this, I have no patience for people not voting for [it]."
Watch the video below:
Pelosi snapped at a reporter asking about the debt ceiling increase:

"What are you talking about?" pic.twitter.com/jPm5BIeSU7

— The First (@TheFirstonTV) September 29, 2021
As the Treasury Department notes, "The debt limit is the total amount of money that the United States government is authorized to borrow to meet its existing legal obligations, including Social Security and Medicare benefits, military salaries, interest on the national debt, tax refunds, and other payments."
Advertisement - story continues below
Additionally, the Treasury notes that the debt limit "does not authorize new spending commitments." Rather, it "simply allows the government to finance existing legal obligations that Congresses and presidents of both parties have made in the past."
Treasury Secretary Janet Yellen has warned that if Congress does not agree to raise or suspend the debt ceiling, the U.S. could default on its obligations in October.
According to Mark Zandi, chief economist at Moody's Analytics, failure to raise the debt ceiling could lead to another recession and the loss of up to 6 million jobs.
The debate around the debt ceiling comes as Democratic lawmakers are looking to pass a roughly $1 trillion bipartisan infrastructure bill and a larger $3.5 trillion spending bill.
Democrats are hoping to use a process known as budget reconciliation, which is immune from a filibuster, to pass the spending package with just 51 votes, with Vice President Kamala Harris casting the tie-breaking vote.
Advertisement - story continues below
While most legislation would require 10 Republicans to vote for it in the Senate, Republicans argue that Democrats do not need their votes.
Instead, they say Democrats should tuck the debt ceiling increase into the spending package and pass it with 51 votes.
As The Wall Street Journal notes, "Senate Republicans have said Democrats, as the party in power, should raise the ceiling themselves. Democrats have emphasized that lifting the debt limit is a shared responsibility of both parties and said votes to lift or suspend the debt ceiling during the Trump administration were bipartisan."
Earlier this week, Senate Republicans blocked Democrats' effort to raise the debt ceiling.
Truth and Accuracy
We are committed to truth and accuracy in all of our journalism. Read our editorial standards.
Conversation