News
Pelosi Claims Washington, Jefferson Would Have 'Tears in Their Eyes' if Voting Rights Legislation Is Not Passed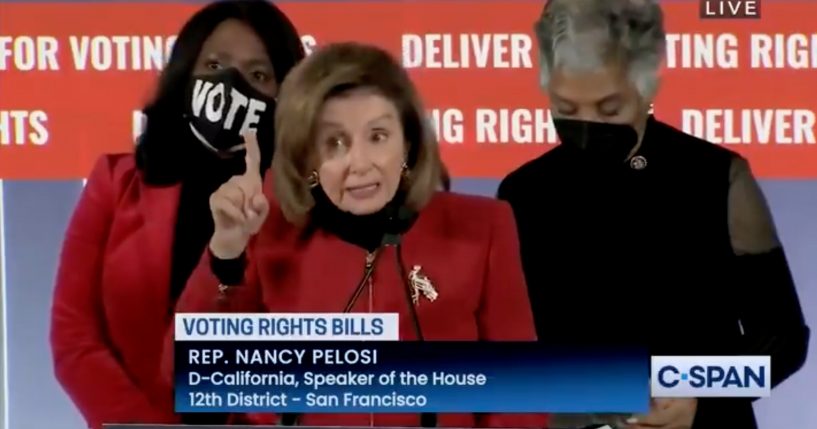 House Speaker Nancy Pelosi (D-Calif.) says the nation's first president would have tears in his eyes because of the "departure from our democracy" that she claims will continue unless Congress passes voting rights legislation.
During an event on Martin Luther King Jr. Day, Pelosi noted that the Freedom To Vote Act and John Lewis Voting Rights Advancement Act have support among Democrats in the House and Senate, but are being held up because they do not have enough votes to overcome the 60 vote threshold in the upper chamber.
"If you really, truly want to honor Dr. King, don't dishonor him by using a Congressional custom as an excuse for protecting our democracy," she said. "We have no right to honor his family, to visit the monument."
Advertisement - story continues below
She continued, "Imagine, 36 years old, left this earth in such a way that he has a monument on the mall along with Abraham Lincoln, George Washington, Thomas Jefferson all of them with tears in their eyes for the departure from our democracy that is happening right now — unless the truth is acknowledged and this legislation is passed."
King was 39 years old when he was assassinated on April 4, 1968.
Watch the video below:
.@SpeakerPelosi at an MLK Day event: George Washington & Thomas Jefferson have "tears in his eyes" that the filibuster is being used to stop us from nationalizing elections pic.twitter.com/SOWNNfk6aG

— Tom Elliott (@tomselliott) January 17, 2022
Advertisement - story continues below
President Joe Biden traveled to Atlanta, Georgia, on Tuesday, where he delivered a speech urging lawmakers to pass the pair of voting rights bills. He also called on lawmakers to change the 60 vote threshold if Republicans use it to block the legislation.
"I believe that the threat to our democracy is so grave that we must find a way to pass these voting rights bills, debate them, vote, let the majority prevail," he said, adding, "And if that bare minimum is blocked, we have no option but to change the Senate rules including getting rid of the filibuster for this."
Despite Biden's push to change the filibuster, which would let Democrats pass legislation with just 51 votes, it appears unlikely that they will have enough votes to change the Senate rules.
Truth and Accuracy
We are committed to truth and accuracy in all of our journalism. Read our editorial standards.
Comment Down Below
Conversation