Pence Pressed on Why Trump Ended CBS '60 Minutes' Interview Early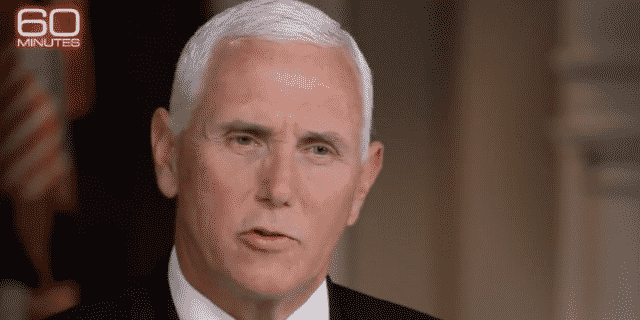 President Donald Trump ended a recent CBS News "60 Minutes interview" early, resulting in the president sharing the full interview before it aired.
The president was not happy with the questioning by CBS' Lesley Stahl last week, where he declared near the end that her questions were inappropriate "right from the beginning," as IJR reported.
"So what just happened with the president?" Stahl asked Vice President Mike Pence on Trump ending the interview early.
The vice president responded during his "60 Minutes" interview, "Lesley, President Trump is a man who speaks his mind. I think it's one of the great strengths that he's had as President of the United States that the American people always know where they stand."
After Stahl said she will "buy that," Pence added, "The American people know that in this time it's less about the back-and-forth with the media, and it's really more about how we bring this country all the way back."
See Pence's comments below:
Lesley Stahl asks Vice President Pence why President Trump ended his interview early.

"President Trump is a man who speaks his mind," says Vice President Pence. https://t.co/hFG0XVJYaO pic.twitter.com/Xs7QhV6KhG

— 60 Minutes (@60Minutes) October 26, 2020
When someone behind the scenes noted that there were five minutes before a walk-and-talk with Trump and Pence, the president, instead, said, "I think we have enough. We have enough."
"I think we're ready for the vice president now," a production assistant said, before Trump said, "OK, that's enough. Let's go."
Before the interview began, the president was asked if he was "ready for some tough questions," to which he responded, "Just be fair" and later added, "I'm going to be fair. You don't ask Biden tough questions. It's terrible."
He later suggested that Democratic presidential nominee Joe Biden gets "softball after softball" questions.
After calling the former vice president's "60 Minutes" interview a "joke," Trump said, "I see Joe Biden getting softball after softball. I see all of his interviews. He's never been asked a question that's hard."
During Stahl's interview with Pence, she pressed him, "This was not just a campaign speech to the public. This was supposed to be an interview…and the same with the president," as IJR reported.
She added, "And I feel that you both have insulted '60 Minutes' by not answering any of our questions and by giving set campaign speeches that we've heard both of you give at rallies."
"What question haven't I answered?" Pence asked, to which Stahl responded, "You didn't answer any of my questions. You just gave speeches."