Pence Swears in First Chief of Space Operations of Space Force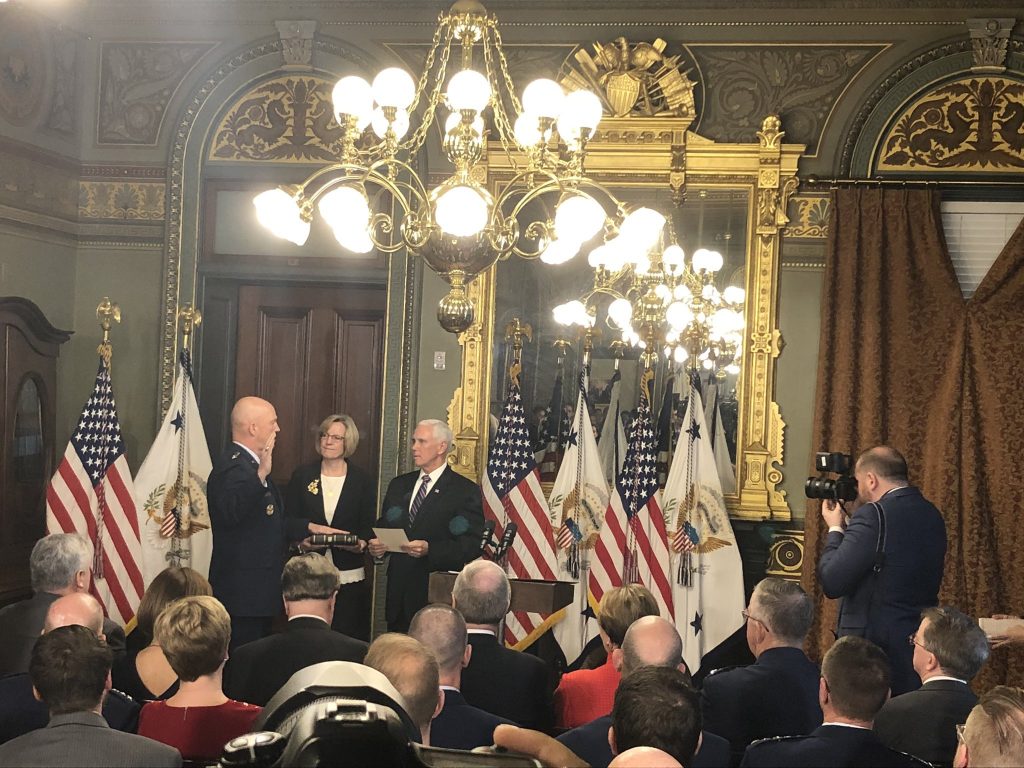 Vice President Mike Pence swore in Gen. Jay Raymond as the first Chief of Operations of the United States Space Force.
During the ceremony on Tuesday, Pence described Raymond as the "the perfect" choice to lead the newest branch of the military.
"General Raymond was the perfect choice — for the president — to lead the Space Force. Because of his integrity and his decades of experience. Particularly in understanding and leading the defense of this nation, and the maintenance of our assets in space."
Watch the ceremony below:
Gen. John Raymond becomes the first officer to take the oath of office as a member of the Space Force. pic.twitter.com/gHnKTKjZT7

— Jacqueline Feldscher (@jacqklimas) January 14, 2020
"In each of his roles over the last 35 years, Gen. Raymond has excelled," Pence said, adding, "We are going to see thousands of Air Force personnel added to the rolls of the Space Force. And the United States Space Force will have an extraordinary launch under Gen. Jay Raymond."
In a statement following the official creation of the Space Force, Raymond said that force would allow the United States to "control and exploit space for the national advantage."
"With the establishment of the Space Force, we elevate the organize, train, and equip function consistent with the criticality of the space domain. The U.S. Space Force will deliver the capabilities U.S. Space Command needs to control and exploit space for national advantage."
President Donald Trump began pushing for the creation of the Space Force in 2018, but it finally came to fruition after Congress approved the $738 billion defense spending bill late last year.
Raymond said the new service will help ensure that the U.S. and its allies will "always have the capabilities" that "our modern way of life depend on."
"Once built, the Space Force's measures of success will be that our adversaries are deterred and that our joint and coalition partners always have the space capabilities that our modern way of war and our modern way of life depend on."
The launch of the Space Force is not without controversy. On Monday, Air Force officials stirred up grief after holding a service to bless the Bible that would be used to swear in all Space Force officers.
https://twitter.com/WNCathedral/status/1216418699898474502?ref_src=twsrc%5Etfw%7Ctwcamp%5Etweetembed%7Ctwterm%5E1216418699898474502&ref_url=https%3A%2F%2Fwww.npr.org%2F2020%2F01%2F13%2F796028336%2Fspace-force-bible-blessing-at-national-cathedral-sparks-outrage
"The Military Religious Freedom Foundation (MRFF) condemns, in as full-throated a manner as is humanly possible, the shocking and repulsive display of only the most vile, exclusivist, fundamentalist Christian supremacy," the MRFF said in a statement. 
However, Air Force officials said the decision to be sworn in on the Bible would remain a "personal choice for each individual swearing-in." 
On Tuesday, Raymond was sworn in on that Bible.
Published in IJR Red