News
Pentagon Spox: There Is 'Concern' for Americans, Afghan Allies Who Were Left in Afghanistan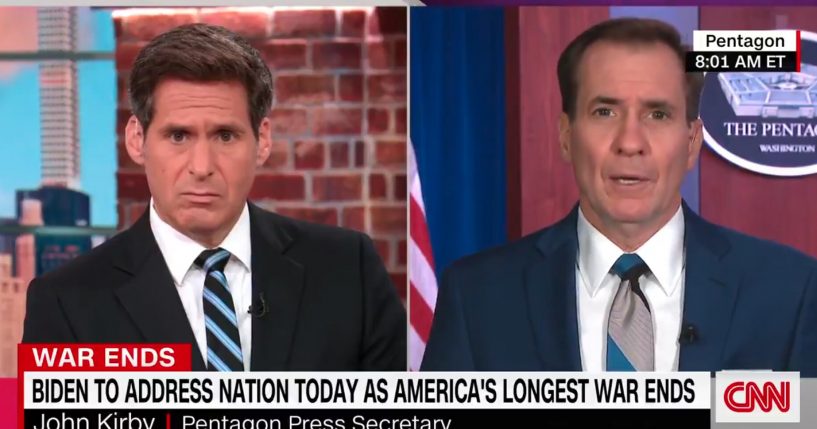 The last U.S. troops have departed Afghanistan, leaving behind American citizens and Afghan allies.
During an appearance on CNN's "New Day" on Tuesday, Pentagon Press Secretary John Kirby said there was a "mixture of relief" that the U.S. was able to evacuate 123,000 people, including 6,000 Americans, from Afghanistan as well as safely withdraw the last troops at the Kabul airport. 
"But there's also concern, obviously, over the ones that we couldn't get out that time and space and the security threat simply wouldn't allow us to reach," Kirby said, adding, "Although we don't think the numbers are large, we're still obviously concerned about our allies and friends and fellow American citizens that are still there."
Advertisement - story continues below
Co-host John Berman later returned to the issue of American citizens still in Afghanistan and recalled the suicide bombing at the Kabul airport that killed 13 U.S. service members.
He asked, "There are still a 100-plus, give or take, U.S. citizens in Afghanistan who want to get out, so what is your current assessment of what threat they might be under?" 
"There is no question that the threat environment in Afghanistan remains high," Kirby responded. "And certainly, we obviously are concerned about the potential for Taliban retribution going forward. And we certainly — and we saw it ourselves — are mindful of the threat that ISIS-K continues to pose inside Afghanistan."
He went on to say the U.S. will "stay mindful of our commitment" to American citizens and Afghan allies to "hold the Taliban accountable for their promises of safe passage."
Advertisement - story continues below
Watch the video below:
At the Pentagon, there's relief for those who were evacuated safely and concern for those who weren't, press secretary John Kirby says.

"There is no question the threat … in Afghanistan remains high. Obviously, we are concerned about the potential for Taliban retribution." pic.twitter.com/Rbq6BqEMu7

— New Day (@NewDay) August 31, 2021
Do you think the U.S. will have to return to Afghanistan?
Secretary of State Antony Blinken said in remarks on Monday that fewer than 200 Americans are still in Afghanistan after the departure of the last U.S. troops.
He acknowledged that getting Americans and Afghans out now that there is not a U.S. military presence will present challenges but vowed, "We will stay at it."
Berman noted that President Joe Biden said the military would not leave Afghanistan until every American that wanted to leave was able to get out and asked, "So if you assess, if the military assesses, that these 100-plus Americans are under imminent threat, what's the military prepared to do about it?"
Advertisement - story continues below
Kirby said the military's job is to "provide options" and not "make policy" but added that there are "other tools available" to help facilitate the safe passage to Americans to get out of Afghanistan.
"I don't foresee a military role at this time, but of course, that's going to be a decision by the commander in chief," he added. "Though the military mission has ended, the United States' commitment to them has not."
Truth and Accuracy
We are committed to truth and accuracy in all of our journalism. Read our editorial standards.
Comment Down Below
Conversation