Commentary
Poll Finds GOP Holds 'Near-Historic' Lead on Massive Question As Midterms Near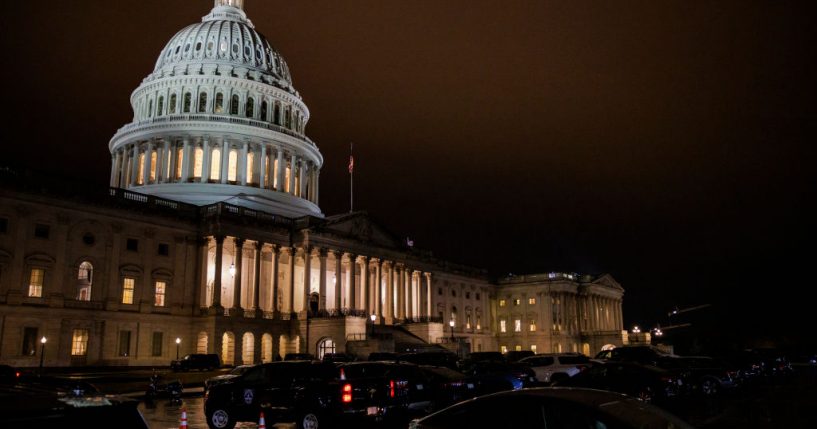 If you've been feeling like the energy ahead of the midterms is drifting toward Republicans again, you may not just be imagining it.
CNN's senior data reporter Harry Enten highlighted yet another data point that appears to be some pretty bad news for Democrats.
In an article titled, "Republicans hold a near-historic lead on a key midterm indicator," published on Tuesday, Enten noted a "recently released Gallup poll on who Americans think can better handle the issue that is most important to them."
Advertisement - story continues below
The survey is kind of odd in that it is open-ended, so respondents can list any issue as the most important one to them — whether it is inflation, crime, abortion, or some other topic.
It then asks respondents which party they believe can best handle the issue most important to them.
The poll found that 48% of respondents say Republicans are best equipped to handle their top issues, while 37% said the same of Democrats.
"This 11-point Republican edge is one of the best they have ever had. Looking at 20 midterm elections since 1946 when this question was asked, only once has the Republican Party had a larger advantage on this question. That was in 1946 when Republicans had a 17 point lead on the Democrats," Enten explained.
Advertisement - story continues below
He went on, "Republicans had a net gain of 55 House seats in the 1946 election. And while the correlation is far from perfect (+0.7 on a scale of -1 to 1) between House seats won by the Republican Party and how they stood against the Democrats on the most important issue question, it is very much existent."
https://t.co/0pm4xkFc1N
GOP holds an 11 pt edge on who Americans trust more on the issue most important to them, which is the 2nd highest lead ever with a Democratic pres. GOP has won an average of 230 seats when ahead on this question before a midtermhttps://t.co/GIJpYzpWH6

— (((Harry Enten))) (@ForecasterEnten) October 4, 2022
"Take a look at all elections since 1946 in which there was a Democratic president. Republicans ended up with 230 seats on average in the five elections when they led on the question of who Americans trusted more on the issue most important to them. This included 1946 when they won 246 seats," Enten added.
While he conceded it might "be a bit of a surprise given what seems to be the electoral landscape," Enten pointed out it appears abortion is fading as a major issue in the election.
A Gallup poll in July found that 8% of Americans listed abortion as the country's top issue — a historic level — but in its most recent poll, the number was cut in half.
Advertisement - story continues below
At the same time, Google searches for crime are outnumbering searches for abortion by a two-to-one margin.
"If that holds come November, Republicans may have no problem reaching that 230 House seat average they have when they hold the advantage on who Americans think can better handle the issue that is most important to them," Enten wrote.
The poll cannot be good news for Democrats hoping to blunt Republicans' wins in November.
That Republicans are holding the largest lead they've ever had in nearly 80 years — despite a focus on former President Donald Trump, abortion, and threats to democracy — signal that Americans really don't care about those issues when their pocketbooks are hurting, and they're worried about their safety in their cities.
Advertisement - story continues below
Republicans' chances of re-taking the House are pretty high at this point. The Senate is still probably a toss-up, especially in light of the Herschel Walker bombshell in Georgia. Still, if gas prices keep rising, and the upcoming inflation report does not show signs of easing, the Senate could tip into Republicans' control.
Truth and Accuracy
We are committed to truth and accuracy in all of our journalism. Read our editorial standards.
Comment Down Below
Conversation