Commentary
'Democracy Dies in Darkness'? Poll Reveals What Americans Say Is the Biggest Threat to Democracy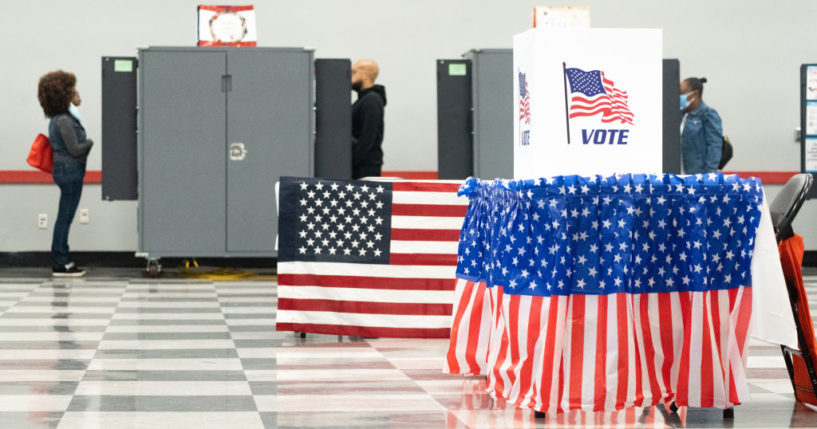 Ahead of the 2022 midterm elections, Democrats have been trying to make threats to democracy a significant issue.
A poll released earlier this week by The New York Times and Siena College asked respondents if they believe democracy is currently under threat. A majority of voters agreed democracy is under threat.
But an article published on Tuesday by The Washington Post's Philip Bump highlighted a curious aspect of the poll.
Advertisement - story continues below
"As it turns out, 84 percent of respondents said yes, the mainstream media posed a threat to democracy, including 6 in 10 who said it posed a major threat," Bump wrote.
He added, "That was the highest percentage of any of the 10 options the pollsters presented — in part because it was one of the few options for which there was bipartisan support."
Ouch.
That's got to hurt for the Post, which changed its slogan to "Democracy Dies in Darkness" in 2017. And it has to hurt for journalists and commentators who view themselves as the gatekeepers of democracy working to prevent Republicans from turning the U.S. into an authoritarian country ripped out of the pages of "The Handmaid's Tale."
Advertisement - story continues below
The @washingtonpost has a new slogan. And it's…awesome. pic.twitter.com/VFNbSRPtjG

— ProPublica (@propublica) February 22, 2017
To pour salt on the wound, this poll result was not from Breitbart or some conservative outlet that disdains the "mainstream media."
Do you think the mainstream media is a threat to democracy?
And finally, it must be a disappointment for President Joe Biden, who delivered a dark speech labeling so-called "MAGA Republicans" an "extremism that threatens the very foundations of our republic."
Additionally, the poll found sharp divides between what Democrats say poses a major threat to democracy, and what a combination of voters of all ideologies point to as a major threat.
For Democrats, the first major threat is former President Donald Trump, followed by the Republican Party, the Supreme Court, the Electoral College, the mainstream media, and finally, the federal government.
Advertisement - story continues below
By contrast, voters not broken down by party affiliation say the mainstream media is the number one major threat, followed by Trump, Biden, the federal government, the Democratic Party, and voting by mail.
This is not to say that undermining faith in the electoral system and suggesting that the 2020 election was stolen is not dangerous.
But Democrats might want to keep this poll in mind while they're screeching about Democracy™.
If they think warning about threats to democracy is going to help blunt their midterm losses, they might be in for a surprise.
Advertisement - story continues below
Because according to this survey, most voters do not view the same people or institutions as "major" threats to democracy as they do.
Truth and Accuracy
We are committed to truth and accuracy in all of our journalism. Read our editorial standards.
Comment Down Below
Conversation