News
Pope Addresses Controversy of Communion for Pro-Choice Politicians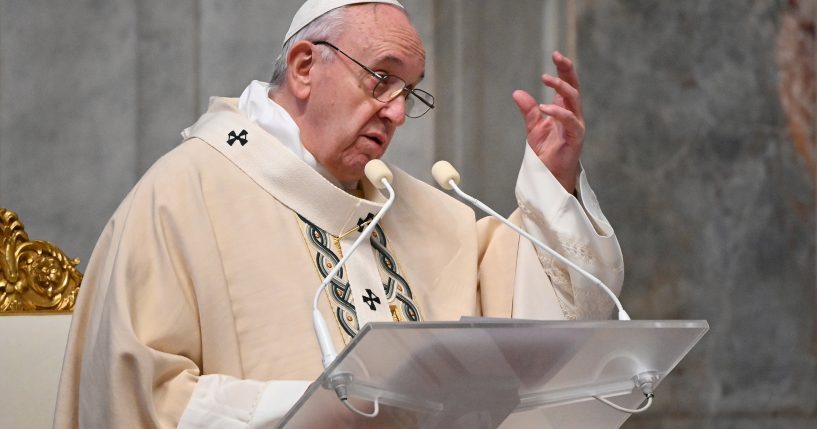 Pope Francis says bishops should act as a "good shepherd" and should not "go around condemning" when it comes to the issue of politicians who are pro-choice receiving communion.
On Wednesday, the pope reiterated the Catholic Church's view that "abortion is murder," according to the Catholic News Agency.
"Scientifically, it's a human life. The textbooks teach us that. But is it right to take it out to solve a problem? And this is why the Church is so strict on this issue because it is kind of like accepting this is accepting daily murder," he said.
Advertisement - story continues below
When asked about the issue of pro-choice politicians receiving communion, the pope said, "What should the pastor do? Be a shepherd, do not go around condemning … but be a pastor. But is he also a pastor of the excommunicated? Yes, he is the pastor, and … he must be a shepherd with God's style. And God's style is closeness, compassion, and tenderness."
"For me, I don't want to particularize … the United States because I don't know the details well, I give the principle … Be a pastor and the pastor knows what he has to do at all times, but as a shepherd. But if he comes out of this shepherding of the Church, immediately he becomes a politician," he added.
Francis' comments come as the Catholic leadership in the U.S. is divided over whether President Joe Biden, who is pro-choice and Catholic, and other pro-choice politicians, should be able to receive communion.
In June, the United States Conference of Catholic Bishops voted to draft a "formal statement on the meaning of the Eucharist in the life of the Church."
Advertisement - story continues below
As Vox notes, "If approved, such a statement could allow individual bishops to prevent Catholic politicians who disagree with church doctrine about abortion from receiving the sacrament of the Eucharist, a sacred rite in Catholicism."
A group of almost 60 Catholic Democrats penned a statement in response to the vote as they said, "The Sacrament of Holy Communion is central to the life of practicing Catholics, and the weaponization of the Eucharist to Democratic lawmakers for their support of a woman's safe and legal access to abortion is contradictory."
Do you think pro-choice politicians should be denied communion?
"We solemnly urge you to not move forward and deny this most holy of all sacraments, the source and the summit of the whole work of the gospel over one issue," they added.
Truth and Accuracy
We are committed to truth and accuracy in all of our journalism. Read our editorial standards.
Comment Down Below
Conversation