News
Sen. Rob Portman Says Republicans Are 'Absolutely Committed' to a Bipartisan Infrastructure Deal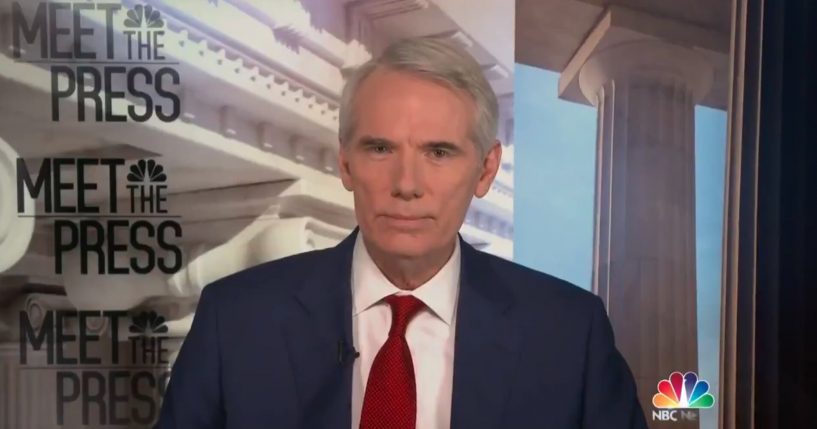 Sen. Rob Portman (R-Ohio) says a group of Republican senators who worked to craft a bipartisan infrastructure deal are "committed" to it even if Senate Minority Leader Mitch McConnell (R-Ky.) opposes it.
During an interview on NBC's "Meet The Press" on Sunday, Portman was asked by host Chuck Todd "how committed" the group of 11 Republican senators is to the package.
"I think we're absolutely committed to it, and I think there's a number of others as well on both sides of the aisle," Portman responded.
Advertisement - story continues below
He continued, "Last week, I heard from a lot of my colleagues saying, 'I just need to look at one other issue, you know, can you do this, can you do that?' But there's a lot of interest in having a bipartisan proposal. And Chuck, this is growing the vote from the middle out."
Watch the video below:
EXCLUSIVE: @SenRobPortman tells #MTP: The group of 11 Republicans pushing for a bipartisan infrastructure deal is "absolutely committed."

Portman: "I think there is a number of others on both sides of the aisle. … There is a lot of interest in having a bipartisan proposal." pic.twitter.com/CVOqWByats

— Meet the Press (@MeetThePress) June 20, 2021
Portman went on to cite lawmakers' success in passing a COVID-19 relief package at the end of 2020, "You recall that at the end of last year we did the same thing with regard to a COVID-19 package, which helped to get that final package done at the end of the year after, really, almost a year of no activity on something that was really necessary. This is the same thing. Everybody wants to do infrastructure."
Advertisement - story continues below
A bipartisan group of 20 senators announced last week that they had reached a deal on an infrastructure package.
Portman along with 10 other Republican Sens. Richard Burr (N.C.), Bill Cassidy (La.), Susan Collins (Maine), Lindsey Graham (S.C.), Lisa Murkowski (Alaska), Mitt Romney (Utah), Mike Rounds (S.D.), Thom Tillis (N.C.), Todd Young (Ind.), and Jerry Moran (Kan.) worked with Democrats to craft the package.
If every Democrat in the Senate voted for the package along with the 11 Republicans, lawmakers could pass the package without having to go through the budget reconciliation process, which would let Democrats pass the bill with just 51 votes.
However, some Democrats have said they would not support a bipartisan bill, meaning more Republicans would have to vote for it to clear the 60 vote threshold.
Additionally, if Democrats chose to go the route of budget reconciliation, they would need all their members to vote for it. But Sens. Joe Manchin (D-W.Va.) and Kyrsten Sinema (D-Ariz.) have signaled they may oppose a bill that is not bipartisan.
Truth and Accuracy
We are committed to truth and accuracy in all of our journalism. Read our editorial standards.
Comment Down Below
Conversation