News
Press Sec Blames Republicans for COVID School Closures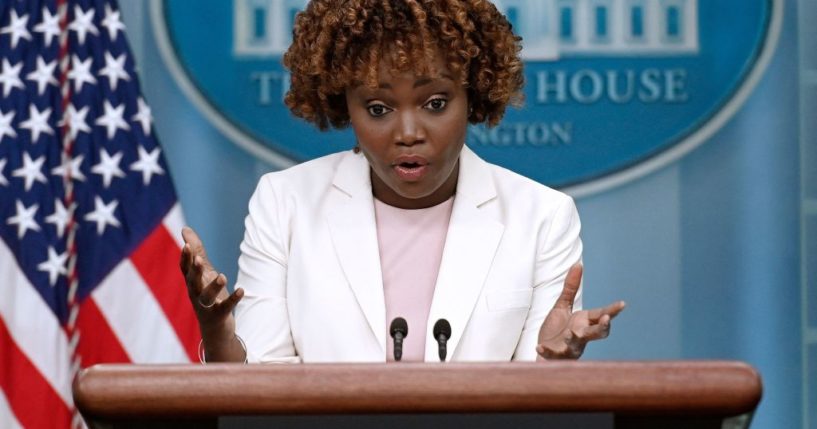 White House press secretary Karine Jean-Pierre put the blame for COVID-related school closures on Republicans in a press conference on Thursday.
The press secretary cited statistics from the National Assessment of Educational Progress which showed a downturn in testing scores of 9-year-olds due to pandemic school closures, suggesting that the Trump administration and other Republicans were to blame for the mismanagement of the pandemic.
Jean-Pierre argued that under Biden "nearly all schools" were opened by six months into the Biden administration, according to Fox News.
Advertisement - story continues below
"That was the work of this president and that was the work of Democrats in spite of Republicans not voting for the American Rescue Plan (of) which $130 billion went to schools to have the ventilation to be able to have the tutoring and the teachers and being able to hire more teachers," Jean-Pierre said, giving credit to the Biden administration.
According to the press secretary, money from the American Rescue Plan will be put towards the "repair [of] the damage that was done by the last administration." 
Jean-Pierre went on in her defense of the administration in a confusing explanation of the administration's viewpoint: "We were, we were, in a place where, again, schools were not open. The economy was shut down, businesses were shut down."
"And, what we have seen, we have seen is, you know, we have seen the numbers, but I think that's what we see, that's how we saw, it shows you how mismanaged the pandemic was and how the impact of that mismanagement had on the, on kids progress and academic well being," the press secretary went on.
Advertisement - story continues below
Jean-Pierre blames Trump for schools being closed during Covid and says schools re-opening "was the work of Democrats in spite of Republicans" pic.twitter.com/X9kQjlzvHY

— Washington Free Beacon (@FreeBeacon) September 1, 2022
The press secretary didn't note that throughout the pandemic, Republicans and former President Trump pushed for schools to restart face-to-face instruction.
Democratic leaders and, in particular, teachers' unions, opposed such initiatives at every stage, as Fox News cited. The groups claimed that going back to school would endanger both teachers and pupils, in defiance of the Centers for Disease Control and Prevention's (CDC) advice.
The press secretary's comments were made when she was asked by reporters about what the Biden administration plans to do to address the "severe learning loss" and whether they shouldered any blame for not pushing schools to open sooner.
Truth and Accuracy
We are committed to truth and accuracy in all of our journalism. Read our editorial standards.
Comment Down Below
Conversation