Commentary
Pro-Impeachment GOP Rep Blasts Dems Spending Money to Boost His Primary Challenger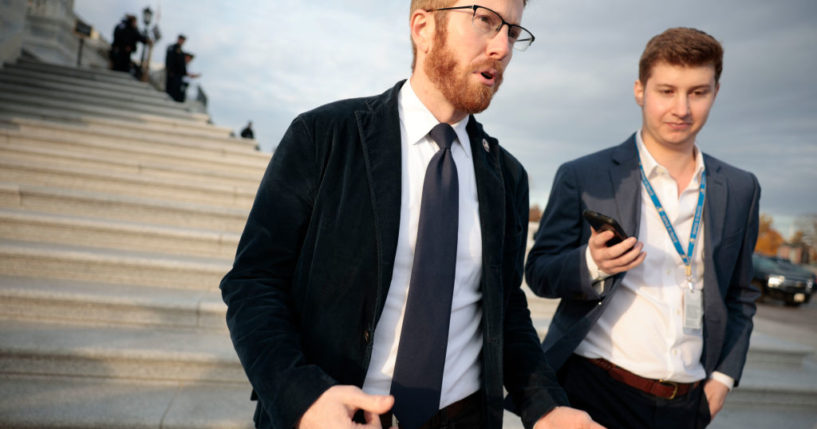 After making the controversial decision to vote to impeach then-President Donald Trump, Rep. Peter Meijer (R-Mich.) has been rewarded by facing Democratic cash aimed at boosting a primary opponent.
The efforts by strange Democratic groups to boost Republican candidates who have questioned the 2020 election results have been well documented by The Washington Post.
And it is very odd.
Advertisement - story continues below
While Democrats in Congress and liberal pundits cry out about saving democracy and claim Republicans pose a threat to America's system of government, some Democratic-aligned groups are playing games by trying to boost those same candidates.
Why? Because they believe those candidates will be easier to defeat in the general election.
Meijer is just the latest target of such an effort, but is perhaps one who best highlights the hypocrisy among liberals.
In a post on Bari Weiss' Substack, the Congressman wrote, "Tomorrow I'm facing off against John Gibbs in the Republican primary for Michigan's Third Congressional District. The race is close. Internal polling has us within single digits of one another. But Gibbs and I couldn't be more different."
Advertisement - story continues below
"I am a staunch defender of the Constitution and the rule of law. Accordingly, I became the first incoming freshman to recognize former Vice President Biden's presidential victory. Then, three days after I was sworn into office in January 2021, I was in the House chamber when rioters overran the Capitol. A week later, I joined nine other Republicans, including Liz Cheney, to impeach then-President Donald Trump with a heavy but resolute conscience," he continued. "I am the only freshman in history to impeach a president of his own party."
He also pointed out that John Gibbs, his primary challenger, has rejected the 2020 election results and has "defended antisemites on his now-locked Twitter account."
After pointing out that Democratic party leaders claim "we are in an existential conflict between defenders of democracy and advocates of authoritarianism," Meijer wrote, "You would think that the Democrats would look at John Gibbs and see the embodiment of what they say they most fear. That as patriots, they would use every tool at their disposal to defeat him and similar candidates that they've said are an existential threat."
"Instead, they are funding Gibbs," he added.
Additionally, he noted that the $435,000 ad buy from the Democratic Congressional Campaign Committee (DCCC) was "more than Gibbs raised over the entire duration of his campaign. It was also nearly 100x the support Donald Trump himself offered to Gibbs."
Advertisement - story continues below
Meijer argued it is "utterly bewildering" that Republicans have "repudiated him." However, he said the "only thing that has been more nauseating has been the capacity of my Democratic colleagues to sell out any pretense of principle for political expediency—at once decrying the downfall of democracy while rationalizing the use of their hard-raised dollars to prop up the supposed object of their fears."
After running through a list of Democrats supporting the efforts to prop-up primary candidates such as Gibbs, Meijer then pointed out that in a normal election cycle, those candidates might be less electable.
But with President Joe Biden's approval rating so low and inflation at a 40-year-high, the chances are somewhat high that those candidates will beat their Democratic opponents.
"As the January 6 Select Committee continues to warn about the ongoing threat to democracy, their own party dues are paying to help elect the same villains they rail against," he concluded. "If successful, Republican voters will be blamed if any of these candidates are ultimately elected, but there is no doubt Democrats' fingerprints will be on the weapon. We should never forget it."
Advertisement - story continues below
Yes, Republicans are, in some cases voting for the candidates that these Democratic groups are propping up.
But if Democrats were really concerned about democracy and the alleged risk these candidates pose, they would be condemning the efforts to help them win their primary races.
Truth and Accuracy
We are committed to truth and accuracy in all of our journalism. Read our editorial standards.
Comment Down Below
Conversation