News
Psaki Asked What Biden Thinks About 'Let's Go Brandon' Chants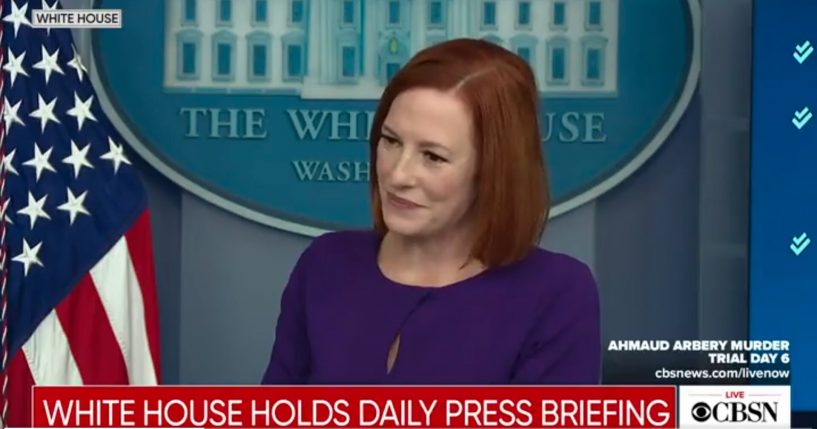 White House Press Secretary Jen Psaki was asked what President Joe Biden thinks about the euphemistic phrase used to attack him.
NBC News' Peter Alexander noted on Friday, "Across this country we've seen this new phenomenon lately chanted at sporting events and on signs the phrase is 'Let's go Brandon,' a sort of code for a profane slogan attacking President Biden."
He asked, "What does the president make of that?"
Advertisement - story continues below
"I don't think he spends much time focused on it or thinking about it," Psaki responded.
Alexander noted that Biden vowed in his inauguration speech to "help get rid of the uncivil war in this country." He asked, "Does the president think there are things he can do differently? Or how does he react to the stuff he sees out there when it is one of his primary promises or desires to help bring Americans together?"
"Well, it takes two to move toward a more civil engagement discourse in this country. And the president's going to continue to operate — as you said — from the promise he made early on, which is that he wants to govern for all Americans," Psaki added.
Watch the video below:
Advertisement - story continues below
.@PressSec is asked what Joe Biden thinks about the "Let's Go Brandon" chants and signs across the country. pic.twitter.com/MBrFyObNir

— Townhall.com (@townhallcom) November 12, 2021
The phrase "let's go, Brandon," has been used as a euphemism for "f*ck Joe Biden," which has been used by spectators of sporting events.
The alternative phrase began to gain momentum after an NBC reporter interviewed NASCAR race winner Brandon Brown. The crowd could be heard chanting, "F*ck Joe Biden."
However, the reporter said, "As you can hear the chants from the crowd, 'Let's go, Brandon!"
As Rep. Bill Posey (R-Fla.) wrapped up a floor speech in October, he said Americans were "understandably frustrated" with Biden's proposed $3.5 trillion spending package.
Advertisement - story continues below
"Actually, they're very angry. And they're not going to sit back and take it much longer," he added.
Finally, Posey said, "Let's go, Brandon!"
As Politico noted after Posey's speech, "The House floor is typically policed quite closely for breaches in rhetoric. Talking about the president in any vulgar way would, of course, attract attention — but this phrase seemed to fly under the radar."
"There's a song climbing the charts. There's merch. But to see it land on the House floor so quickly is a sign of how fast ideas travel in 2021, and the increasing use of memes in politics," the outlet added.
Advertisement - story continues below
Rep. Jeff Duncan (R-S.C.) wore a mask on the House floor that read, "Let's go Brandon." Additionally, Rep. Lauren Boebert (R-Colo.) posted a photo of herself wearing a dress with the catchphrase on it standing next to former President Donald Trump, as IJR reported.
Truth and Accuracy
We are committed to truth and accuracy in all of our journalism. Read our editorial standards.
Comment Down Below
Conversation