News
Boebert Wears 'Let's Go Brandon' Dress During Meeting With Trump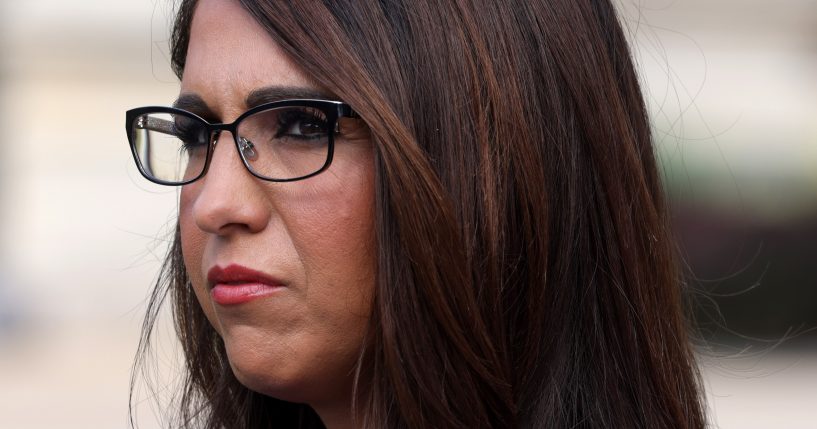 Rep. Lauren Boebert (R-Colo.) made a fashion statement during her meeting with former President Donald Trump.
Boebert arrived at Mar-a-Lago Thursday wearing a dress with the phrase "Let's Go Brandon" printed on it.
She tweeted a photo of herself alongside Trump, adding, "It's not a phrase, it's a movement! #LGB."
Advertisement - story continues below
It's not a phrase, it's a movement! #LGB pic.twitter.com/MpeKAEVfWB

— Lauren Boebert (@laurenboebert) November 5, 2021
The phrase went viral after a reporter for NBC misheard chants following a NASCAR race, as IJR previously reported.
The crowd chanted "F*** Joe Biden." NBC Sports reporter Kelli Stavast then said, "As you can hear the chants from the crowd, 'Let's go Brandon!"
As CNN notes, "The rapid rise in popularity of the phrase amounts to a sort of verbal secret handshake, a way for those deeply opposed to Joe Biden's presidency to identify other members of their tribe. It's become the PG-rated version of the expletive-laced chant heard at Talladega (and lots of other sporting events) over the past few months."
Advertisement - story continues below
Boebert's dress also appeared to be a response to a dress Rep. Alexandria-Ocasio-Cortez (D-N.Y.) wore during the Met Gala in September, as IJR previously reported.
In case you missed it:
Just admit it. @AOC is good at this. pic.twitter.com/0Im5w5DiZi

— Chris Hahn (@ChristopherHahn) September 14, 2021
Ocasio-Cortez's dress said "Tax the Rich." She explained on Twitter, "The medium is the message…The time is now for childcare, healthcare, and climate action for all. Tax the rich."
The Democrat continued, "And before haters get wild flying off the handle, New York elected officials are routinely invited to and attend the Met due to our responsibilities in overseeing and supporting the city's cultural institutions for the public. I was one of several in attendance in this evening."
Advertisement - story continues below
According to Ocasio-Cortez, she and the designer "started having a conversation about what it means to be working class women of color at the Met and we said, we can't just play along, but we need to break the fourth wall and challenge some of the institutions, and while the Met is known for its spectacle, we should have a conversation about it."
Truth and Accuracy
We are committed to truth and accuracy in all of our journalism. Read our editorial standards.
Comment Down Below
Conversation