News
Psaki Says Biden 'Does Not Support Abolishing Prisons'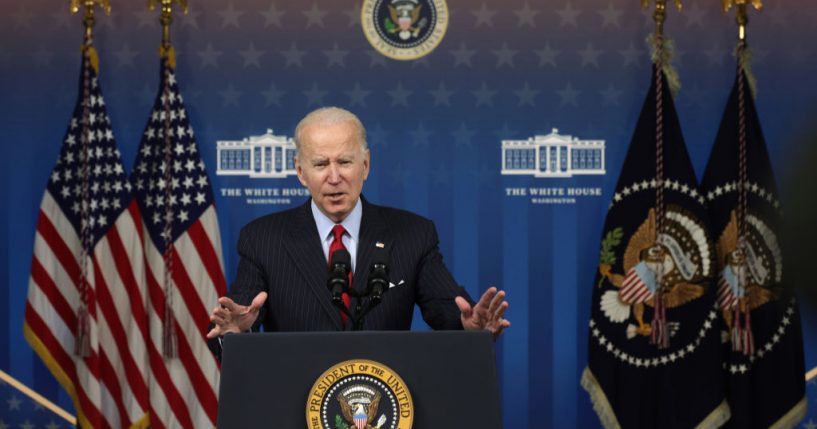 White House Press Secretary Jen Psaki says President Joe Biden does not support legislation backed by Rep. Rashida Tlaib (D-Mich.) to empty federal prisons within 10 years.
During a press briefing on Tuesday, Fox News' Peter Doocy said, "A couple days ago, President Biden was in Michigan and he was thanking congresswoman Rashida Tlaib for the past work in her district. Now she is supporting legislation that would release all federal prisoners within 10 years."
He asked, "Would the president ever support that?"
Advertisement - story continues below
"The president did enjoy visiting Michigan and visiting Congresswoman Talib's district. But let me be absolutely clear: The president does not support abolishing prisons," Psaki responded. "He does not support defunding the police. He thinks measures like that will make us less safe, and he would not support legislation that includes it."
She continued, "What he does support is effective, and accountable policing and a fair justice system, and he supports investment in public health, education, the environment, housing, community-based programs. But he knows there are steps, and he believes there are steps that we know are going to reduce crime and make our neighborhoods safer, but that is not one of them in his view."
Watch the video below:
Psaki says Biden does not support abolishing prisons or defunding the police pic.twitter.com/Nw9OZpQAKB

— The Post Millennial (@TPostMillennial) November 23, 2021
Advertisement - story continues below
In 2020, Tlaib endorsed the Breathe Act. According to Fox News, "A summary of the act calls for the Department of Justice and the Department of Health and Human Services to create a plan that 'provides for full decarceration of federal detention facilities within 10 years' and 'enacts a moratorium on all new federal prison, jail, immigrant and youth detention construction.'"
The Michigan Democrat was asked about the legislation by Axios' Jonathan Swan, who noted the legislation calls for "emptying federal detention facilities within 10 years."
He asked, "To what extent have you wrestled with any potential downsides of releasing into society every single person who's currently in a federal prison?"
"I think that everyone's like, oh my god, we're going to just release everybody," Tlaib responded.
Swan interrupted as he said, "That's what it says."
Advertisement - story continues below
"Yeah, but did you see how many people are mentally ill that are in prison right now?" she responded.
Swan said, "No, I know. But the act that you endorsed actually says 'release everyone' in 10 years. But there are like human traffickers…Do you mean that you don't actually support that?"
"No, I endorsed the Breathe Act in looking at federal policies and how we incarcerate," Tlaib said.
When Swan asked if she believes that there are some individuals who should not be released, Tlaib responded, "I would have to look at every case individually and figure that all out. I can't just say that
Truth and Accuracy
We are committed to truth and accuracy in all of our journalism. Read our editorial standards.
Comment Down Below
Conversation