News
Psaki Asked What Her 'Exact Heart Rate' Was When Biden Extended the Length of His Press Conference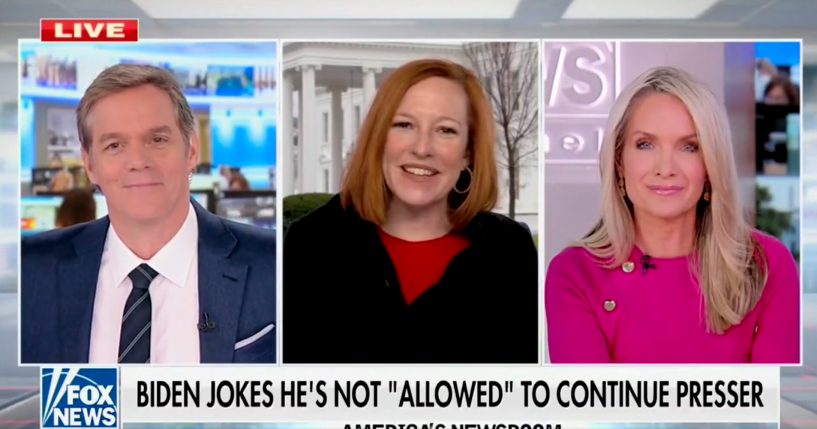 White House Press Secretary Jen Psaki laughed off a question about her response when President Joe Biden decided to extend the length of his press conference.
Biden's first press conference of 2022 lasted nearly two hours. Roughly one hour and 20 minutes in, Biden took a brief pause from answering questions to ask, "Let me get something straight here, how long are you guys ready to go? You wanna go for another hour, two?"
"OK, tell you what, folks, I'm going to go another 20 minutes," Biden said.
Advertisement - story continues below
Fox News' Dana Perino, who was a press secretary for former President George W. Bush, told Psaki during an interview on Thursday, "I have a lot of empathy on the press side of things. I always feel like I can be in the room and think what you're thinking."
"When the president said, looks at his watch and says, I guess I'll go another twenty-four minutes, I'm curious what your exact heart rate was at that time," she added.
Psaki laughed and said, "I'm a pretty chill person in general. I may not always seem that way in the briefing room, but I will say I watched and I knew he was having a good time."
"He actually likes engaging with reporters. As you all know, he was on the Hill for 36 years as a member of the Senate. And in Congress, members wander around, and reporters come up and ask them questions, and that's what he is used to. So I knew he was having a good time," she added.
Advertisement - story continues below
Watch the video below:
Jen Psaki ends her first Fox News interview with smiles and laughs as Dana Perino says she was "having a heart attack" for Psaki when Biden extended yesterday's press conference.

The hosts then extend an invitation to Biden as Perino wishes the Bengals luck in the playoffs. pic.twitter.com/vDaLQhelkB

— Justin Baragona (@justinbaragona) January 20, 2022
Perino added, "I was having a heart attack for you."
Co-host Bill Hemmer said that if Biden "likes that give and take" with reporters, "We would encourage him to join us. We would encourage him to join the White House press corps more often than just yesterday."
"Let me tell you this, Bill. He's answered questions 250 times in the last year to the White House press corps, but I will see him shortly, and I will pass on your invitation," Psaki responded.
Truth and Accuracy
We are committed to truth and accuracy in all of our journalism. Read our editorial standards.
Comment Down Below
Conversation