News
Conservative Radio Host Says He Tested Positive for COVID After Trying to Contract the Virus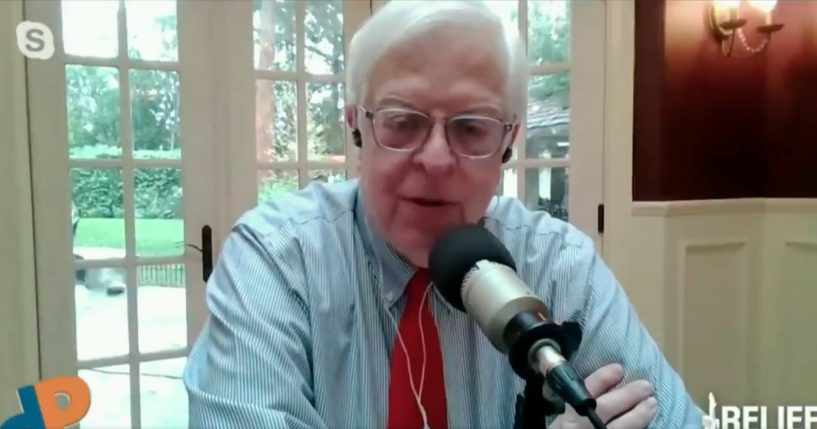 Conservative radio host Dennis Prager says he intentionally contracted COVID-19 and received monoclonal antibodies to "achieve natural immunity" instead of getting vaccinated against the virus.
On Monday, Prager said, "[I] engaged strangers constantly hugging them, taking photos with them, knowing that I was making myself very susceptible to getting Covid which is indeed, as bizarre as it sounded, what I wanted in the hope that I would achieve natural immunity and be taken care of by therapeutics."
"That is exactly what has happened," he added.
Advertisement - story continues below
The radio host shared, "I have received monoclonal antibodies, that's Regeneron. I have, of course, for years — a year and a half, not years — been taking hydroxychloroquine from the beginning, with zinc. I've taken Z-Pak, azithromycin, as the Zelenko protocol would have it. I have taken ivermectin."
Additionally, he claimed, "I have done what a person should do if one is not going to get vaccinated."
Watch the video below:
Conservative radio host Dennis Prager says he has COVID after he "constantly" hugged strangers in an effort to "achieve natural immunity."

(Natural immunity is not more effective than the vaccine and those who've contracted COVID should still get vaccinated, the CDC says.) pic.twitter.com/fJZuOhOFA3

— The Recount (@therecount) October 19, 2021
Advertisement - story continues below
While Prager championed natural immunity, a study released by the Centers for Disease Control and Prevention (CDC) in August found "that unvaccinated individuals are more than twice as likely to be reinfected with COVID-19 than those who were fully vaccinated after initially contracting the virus."
"These data further indicate that COVID-19 vaccines offer better protection than natural immunity alone and that vaccines, even after prior infection, help prevent reinfections," the agency added.
CDC Director Rochelle Walensky said, "If you have had COVID-19 before, please still get vaccinated."
"This study shows you are twice as likely to get infected again if you are unvaccinated. Getting the vaccine is the best way to protect yourself and others around you, especially as the more contagious Delta variant spreads around the country," she added.
Prager's infection comes as 77.1% of the population over the age of 12 has received at least one dose of the vaccine.
Truth and Accuracy
We are committed to truth and accuracy in all of our journalism. Read our editorial standards.
Conversation