News
Raffensperger Does Not Rule Out Voting for Trump in 2024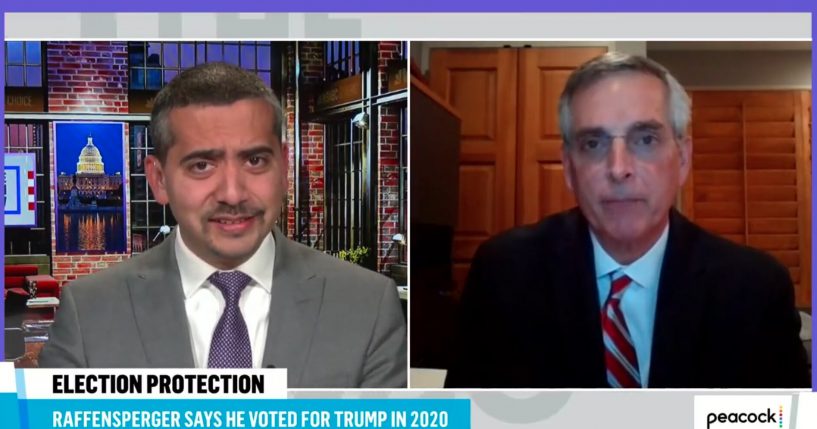 Georgia Secretary of State Brad Raffensperger (R) is not willing to state that he will not vote for former President Donald Trump if he runs in 2024.
During an appearance on "The Mehdi Hassan Show" Tuesday, Raffensperger was asked, "You've said for a year that you voted for Donald Trump in 2020. So if he, as looks likely, is the Republican candidate again in 2024, will you vote for him again?"
"That is so far out in the future. There's many people who are going to throw their hat in the ring. I think we'll have a robust debate. And I think we'll have someone that can stand on character and have the moral compass to lead this nation," Raffensperger began.
Advertisement - story continues below
Host Mehdi Hassan interrupted and said the secretary of state had done a "masterful job of avoiding" his questions. Then asked, "If Donald Trump is the candidate, you told me at the start of the interview you're a Republican you're a conservative, you're gonna vote for this guy?"
"That's so far in the future. I haven't even thought about that. I gotta get reelected next year," Raffensperger said.
But Hassan responded, "You're not ruling it out, which is astonishing to me. This is a guy who incited violence against you and your family, and you're considering maybe voting for him. You're not saying tonight no way am I ever voting for that guy."
After several seconds of silence, Raffensperger asked, "Was that a question or was that a statement?"
Advertisement - story continues below
Hassan asked one more time if Raffensperger would rule out voting for Trump again. However, he responded by saying he believes in 2024, the Republicans will have "a person that can grow the party."
Watch the video below:
After getting Trump-inspired death threats for months after the 2020 election, is Georgia Secy. of State Brad Raffensperger planning to vote for Donald Trump should the former president be the Republican nominee in 2024? @mehdirhasan isn't surprised by much: pic.twitter.com/HizEcQr9sr

— The Mehdi Hasan Show (@MehdiHasanShow) November 17, 2021
Raffensperger has not held back in criticizing Trump over his unfounded claims of widespread fraud in the 2020 election.
In January, Trump called Raffensperger to pressure him to investigate allegations of fraud, as IJR reported.
Advertisement - story continues below
"The people of Georgia are angry, the people in the country are angry," he said during the phone call, adding, "And there's nothing wrong with saying, you know, um, that you've recalculated."
However, the secretary of state pushed back, noting, "Well, Mr. President, the challenge that you have is, the data you have is wrong."
Trump was also heard saying, "I just want to find 11,780 votes, which is one more than we have, because we won the state."
"We won the election, and it's not fair to take it away from us like this, and it's going to be very costly in many ways, and I think you have to say that you're going to reexamine," he added.
Advertisement - story continues below
President Joe Biden won the state by an 11,779 vote margin.
Truth and Accuracy
We are committed to truth and accuracy in all of our journalism. Read our editorial standards.
Conversation