Sen. Rand Paul: John Roberts Not Presiding Over Impeachment Trial 'Crystalized' It Is Unconstitutional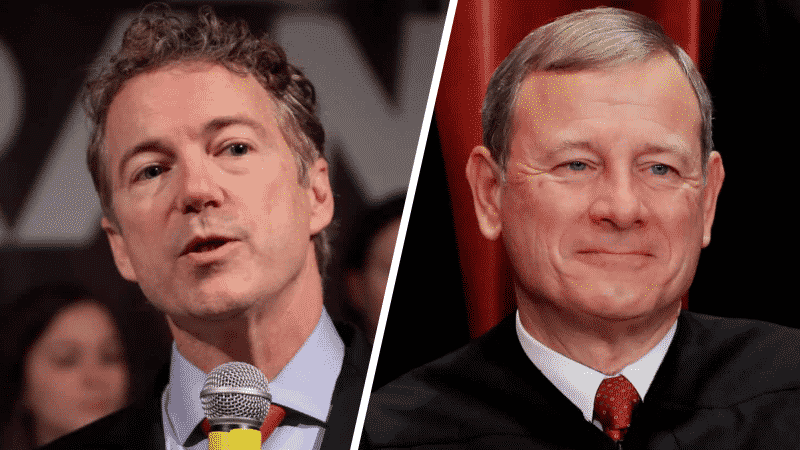 Sen. Rand Paul (R-Ky.) is suggesting that Chief Justice John Roberts' absence at the upcoming Senate impeachment trial against President Donald Trump "crystalized" it for him that the trial is unconstitutional.
"We've long been aware that a constitutional motion is a privileged motion and that it could happen. We discussed it within our office," Paul told The Hill on Thursday.
He added, "What really crystalized it for me is that about a week ago we were on a Republican conference call and they said the chief justice wasn't coming."
Paul has been pushing that the Senate's impeachment trial is unconstitutional, saying earlier this week that "impeachment of a private citizen is illegal and essentially a bill of attainder."
"A sham, this is," he said on the Senate floor Tuesday.
Touching on a Senate Republican conference call that occurred on Jan. 21, Paul told The Hill, "Myself and others were like, 'Oh my goodness, the chief justice is not coming. That's a huge, huge signal that there's something wrong with this proceeding.'"
He also said, "The optics of the chief justice not coming and then also the optics of a person who had favored the last impeachment now presiding over the trial — who's also going to vote in the trial — it just didn't look right or sound right to any of us."
Senate President Pro Tempore Patrick Leahy (D-Vt.) is expected to preside over the trial. Leahy — the Senate's longest-serving member — previously voted to convict Trump of two impeachment articles.
Leahy said in a recent statement, "When I preside over the impeachment trial of former President Donald Trump, I will not waver from my constitutional and sworn obligations to administer the trial with fairness, in accordance with the Constitution and the laws."
On Tuesday, all but five Republican senators voted to declare the trial unconstitutional. Those who did not include Republican Sens. Mitt Romney (Utah), Ben Sasse (Neb.), Susan Collins (Maine), Lisa Murkowski (Alaska), and Pat Toomey (Pa.).
The House of Representatives voted to impeach Trump for a second time, charging him with "incitement of insurrection." The Senate impeachment trial is set to begin the week of Feb. 8.