News
Joy Reid Suggests Americans Are 'Not Happy' With Biden Because They Spent Their COVID Stimulus Checks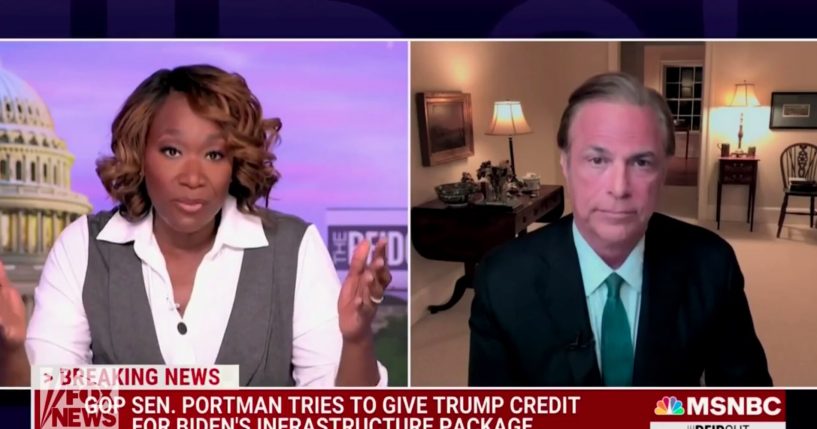 MSNBC's Joy Reid is suggesting that President Joe Biden's approval ratings have decreased because Americans spent their stimulus checks from COVID-19 relief packages and "now they're not happy."
During a segment of Reid's show, "The Reidout" Monday, the host noted Biden's lower approval ratings despite passing a COVID-19 relief package that distributed another round of stimulus checks.
"I hate to really dwell on polls because they're ephemeral, and at this point in many of their presidencies, a lot of presidents faced a crisis of public confidence, and Joe Biden faces a massive ongoing COVID nightmare that is harming his numbers. His numbers are pretty low right now," Reid said.
Advertisement - story continues below
She added, "There are also a lot of Americans who, despite having gotten the shots and checks, are still telling pollsters that he's accomplished nothing or almost nothing, which I find amazing. I guess they spent the whole $2,000, and now they're not happy anymore. Does this matter? Should we think about this in terms of those polling numbers?"
Advertisement - story continues below
In March, Biden signed the $1.9 trillion American Rescue Plan, which was designed to deliver aid to Americans struggling financially from the COVID-19 pandemic. The bill delivered $1,400 payments to Americans earning less than $75,000 a year.
That came months after then-President Donald Trump signed a relief package that sent out $600 direct payments.
Reid referenced an ABC News/Washington Post poll that found 41% of Americans approve of Biden's job performance while 53% disapprove.
As ABC News notes, "Among the key factors is the economy. With inflation soaring, 70% say the economy is in bad shape, up from 58% last spring. While just half blame Biden directly for inflation — its worst in 31 years — his approval for handling the economy overall is down to 39%, off 6 points just since early September and 13 points from last spring."
Despite Biden's success in getting his roughly $1 trillion infrastructure package signed into law, just 35% of Americans say they think he has accomplished "much overall."
Truth and Accuracy
We are committed to truth and accuracy in all of our journalism. Read our editorial standards.
Comment Down Below
Conversation