Commentary
Joy Reid Absurdly Claims That the Media's Focus on Ukraine Is Because of Race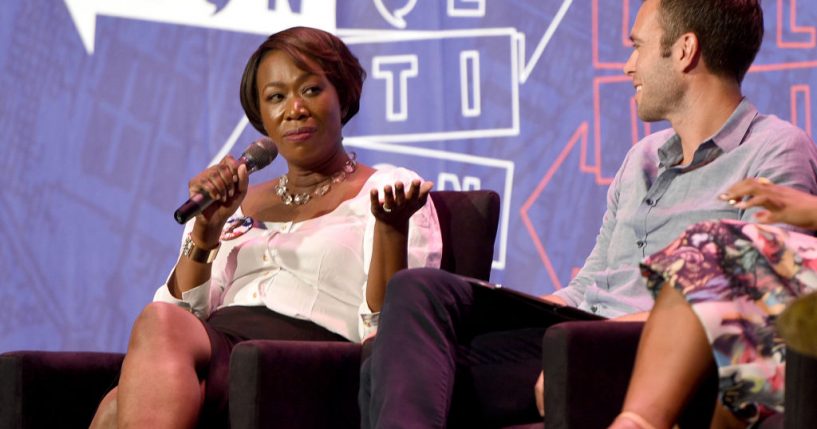 MSNBC's Joy Reid believes that the world is paying so much attention to the war Ukraine, not because it threatens to upend the post-Cold War order, but because of the color of its citizens.
Reid highlighted the war in Yemen, which "we don't hear much about in the U.S.," during a segment of her show on Monday.
"It has triggered one of the worst humanitarian crises in the world due to widespread hunger, disease, and attacks on civilians. Four million Yemenis have been forced to leave their homes," she explained.
Advertisement - story continues below
While the host noted that Europe is witnessing its worst humanitarian crisis in decades due to the war in Ukraine, she pointed out, "We haven't witnessed the same type of solidarity for the Yemenis as we do for the Ukrainians. We don't see historic sanctions or global campaigns, corporations like Airbnb and Netflix taking a stand."
Reid then turned to what she claimed was a "disparity in how human Ukrainians look and feel to Western media compared to their browner and Blacker counterparts."
She then played a montage of journalists talking about how Ukraine is a "relatively civilized, relatively European" nation.
"OK, let's face it, the world is paying attention because this is happening in Europe," Reid said. "If this was happening anywhere else, would we see the same outpouring of support and compassion?"
Advertisement - story continues below
She continued, "We don't need to ask ourselves if the international response would be the same if Russia unleashed its horror on a country that wasn't largely white and Christian."
First, the war in Yemen is horrible. According to the Council on Foreign Relations (CFR), it has displaced 4 million Yemenis and led to the deaths of 100,000 people.
But it's important to point out a big difference between that war and the war in Ukraine.
In 2014, insurgents with links to Iran, known as the Houthi rebels, rose up against Yemen's government and took control of the capital city to demand lower gas prices and a new government, which sparked the deadly civil war. Saudi Arabia has conducted airstrikes in Yemen to fight the insurgents.
In one case, a Saudi airstrike hit a school bus and killed several children. The Houthis have also shot missiles into Saudi Arabia.
Advertisement - story continues below
War is horrible and evil, no matter what color its victims are. However, the reason that the media cares so much about Ukraine is not that it is "largely white and Christian."
It is in large part because a nuclear-armed power launched an unprovoked attack on a smaller, neighboring country. This is something that Europe has not seen in decades and there are concerns that events could spiral and lead to a nuclear conflict.
Additionally, Reid's argument should be called into question based on the fact that Ukraine has been fighting a war with separatist regions since 2014, and that did not trigger the same kind of international response as Russia's invasion has.
As for comments about the people in Ukraine being "civilized," that is a poor choice of words that for some may seem to imply non-white nations and people are less than white people. But it is a lazy way of saying that Ukraine looks like other countries that have not experienced the same turmoil as nations such as Syria and Yemen.
Advertisement - story continues below
And it is simply jarring to see images of bombed-out buildings that look like the same buildings you would see in other European nations or even in some parts of the U.S., in a region that has not seen such a large conflict in decades. And that has nothing to do with race or religion.
Truth and Accuracy
We are committed to truth and accuracy in all of our journalism. Read our editorial standards.
Comment Down Below
Conversation